Thursday, May 31, 2007
Verb-alize name of a place
What I meant is to make a verb out of the name of a place. Let me give some examples.
"Babes, are you

Velveting

tonight?" translates into "Girl, are you going to Velvet to club tonight?". Catch my drift? Most of the time it is used for clubbing (Well, for me at least). The word clubbing has become too overused and sometimes ostentatious. There's gotta be a way to substitute that term and that is to verb-alize the name of the club.

Club owners come up with names that can easily be verb-alize as well. I guess they did realize the fact that people actually use club names as a verb to refer instead of using the word clubbing.
"Dude, are you

Rushing

tonight?" meaning are you clubbing at Rush tonight. Ok Rush ain't that great but there is this place called Bed. Great verb to use, be it decent or indecent.

The Bed is a club located along the Asian Heritage Row and apparently there are actually beds in it where you can chill out. I have not been to Bed but I would want to go to Bed with someone (sounds indecent). So imagine this, a guy asking a girl out to The Bed on Friday night.

Guy: Hey babe, do you wanna go to Bed with me tonight?
Girl: Errr, yea, sure.
Guy: Great, I'll pick you up at 11 alright?
Girl: On your way, please pick up some condoms from 7 Eleven because I do not have any with me.
Guy: Huh?? We are going to The Bed along the Asian Heritage Row.
Girl: *embarassed*

So you see, an indecent proposal to know if a girl is willing to sleep with you.

If I were to open a club, it will most definitely have a name that can be a verb anytime.



Yes, Club Phar Quay! ( for the Americans, its spelt Phar Key).

Ah Beng: Kinky, you wanna fucky tonight?
Kinky: Can can. I want...hehehe.
Ah Beng: Oh Soli, I meant go to Phar Quey leh, what you thinking. Horny only call you meh.

Very soon, Phar Quey will be the talk of the town. Every guy will want to fucky with a girl and the girl will be so willing to get a fucky. Devising a pick up line would be so much easier with a popular club such as Phar Quey in town.

Labels: Lifestyle
posted by DaphStar* @ 8:40 AM

Monday, May 28, 2007
Photo Kaki
I know I am slow. I just started taking a slight more interest in photography these days. I think its because of my new kick ass Canon PowerShot that I bought. So, I decided to get some ideas from this kick ass Malaysian Photography forum, photokaki.com

All the amateur and professional Malaysian photographers converge in this particular forum to exchange ideas and also to show off their masterpieces. But ,I do enjoy sifting through the pictures, getting ideas for an artistic shot. I have decided that I would start shooting portraits of old people.
Somehow there is something captivating about their expression which shows in the lines of their face.



Photo source :http://dogjournals.blogspot.com



It is so common that people(especially guys) would make pretty girls their model for a photo shoot. Well, I guess it is only natural that guys would want to shoot only pretty girls instead of old people. There is no incentive to shoot old people right, guys? Old people are common, but sweet young thangs..*slurp*. You can't get them at clubs, but you get them to pose for you for free!


Labels: Lifestyle
posted by DaphStar* @ 7:30 AM

Friday, May 25, 2007
Baby Laughing
I can't help but watching this video over and over again. The baby is utterly cute!
Makes me feel like having one of my own who is just as cute and intelligent.



Labels: Offbeat
posted by DaphStar* @ 7:16 AM

Wednesday, May 23, 2007
A Name too hi-tech for themselves
.
It is quite common for Chinese to give themselves a 'corporate' name when they step into the corporate world. Its like back in high school, his friends know him as Chau Beng, but in the corporate world he is known as Sergei Tan. Every time when I hear names like these, I get blown away immediately. You know, it is like they generate wind when they walk and it can blow you away because Sergei Tan is walking towards you!

I mingle around IT people and they find the most high tech names to give it to themselves. Sometimes it just does not suit their personality at all. But I respect that because in a way its a marketing tool. Imagine that you introduce your husband called Elvis Lee to all your colleagues. 2 years down the road, your colleagues will still remember that he is called Elvis, who wouldn't.

Same goes to a programmer that I have come across by the name of Lucas. Woah, George Lucas. That is big, and you gotta be big enough to carry that sort of name.
What about Linus Lau. Yea I met Linus at my office just the other day.


First thing that came to my mind, Linus Torvalds?? See, you gotta be somebody to carry the name Linus as well!

One day when I was rummaging through my name card holder, I came across this person called Bacon Ow! Imagine him going like this in Zouk:



Bacon

: Hey, you look so hot dancing on the podium all night.


Chick

: Oh really, Thanks! The name's Sherilynn. How about you?


Bacon

: A beautiful name befits a beautiful person like you. My name is Bacon.


Chick

: Ohh..hehheeh....hi Baaacon. Anyway, nice to meet you Baaacon, i gotta go, my boyfriend is waiting for me.


Bacon

: *_*

As if the name card was not enough to keep me laughing all day. I came across another name card and it almost made me gasping for breath.
His name was Black Lim.



Black

: Hi I am Black


Dude

: Oh, then I'm White. LOL


Black

: No really I am Black.


Dude

: You blardy nigger wannabe. You are Chinese ok. That makes you Yellow.


Black

: But I am Black.....

Labels: Offbeat
posted by DaphStar* @ 6:22 AM

Monday, May 21, 2007
Why is it wet??
These days, the city council has upped efforts on public toilets around town. Toilets like these can be seen in popular tourist spots in KL. This is an awfully good thing because public toilets to me are never a pleasant experience. Imagine stepping into an RM400k toilet. Feels like sitting on a toilet bowl made out of Swarovski crystal.



Images from hot-screensaver.com




Even the toilets in Midvalley are not equipped with the garden hose but somehow the floors seems a little wet. No, I am quite sure it is not misfired urine. Don't ask me how but you can tell the difference between urine and water. The only water source is from the toilet bowl itself. So could it be that some people actually bring in their own bottle of water to perform their rituals, OR (big possibility)

they scoop the water out of the toilet bowl to

WASH

their intimate area?!
I am not mean but my brother has seen someone doing the same thing in the Men's.

BIG EWWWW!!!!


Labels: Offbeat
posted by DaphStar* @ 8:19 AM

Thursday, May 17, 2007
Tits in Bits
Notice anything wrong with this signboard????



Yes, they are selling Tits in Bits! eewwwww. I just couldn't help but wondering that something is wrong with the signboard and finally realized it is spelt Tit-Bits instead of Tid-Bits.
So, anyone up for Tits in bits with Kacang Putih?

Labels: Offbeat
posted by DaphStar* @ 8:18 AM

Sunday, May 13, 2007
Glittering Black & Silver Nite
That was the theme of the Dance Party. It was a great theme cos most aunties only have black in their wardrobe and that is the only color that can conceal all the unflattering body parts.
Some people were color blind and some went way over the top just to win the best dressed for the party.




Parties are always an excuse to go shopping for a new outfit. It is what ladies do best. There were a few outrages outfit that I managed to capture with my cam. Firstly, is the lady with the silver mop.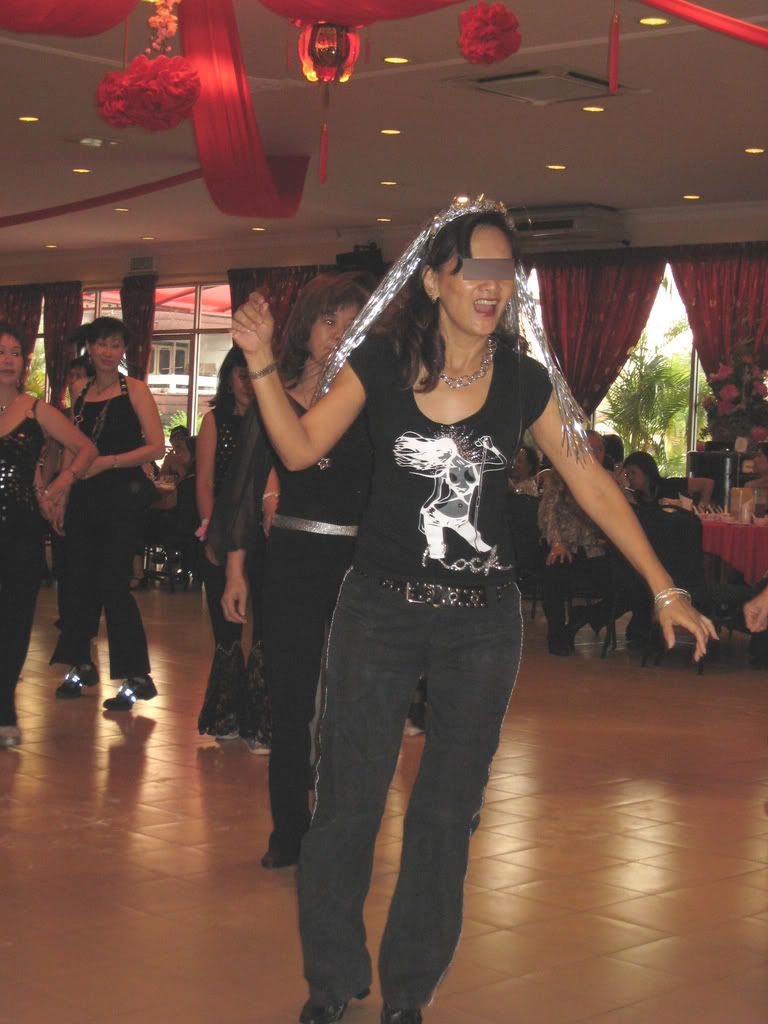 Well, at least she was happy that the mop doesn't weight down her whole head. But still, what was she thinking?!!

Another one that really super uber stood out was slutty aunty. Previously she was featured in one of my posts as the lady who ticked me off and was the laughing subject of everyone .
She is back again with the same type of outfit, only in a different color.


Previous party's outfit


Recent party outfit


Totally no sense of creativity or decency. At least the silver mop hair lady has a little bit of creativity which is a mop as hair extensions.

I got bored towards the end and couldn't stay for the announcement of the best dressed lady of the night. No pictures of that person.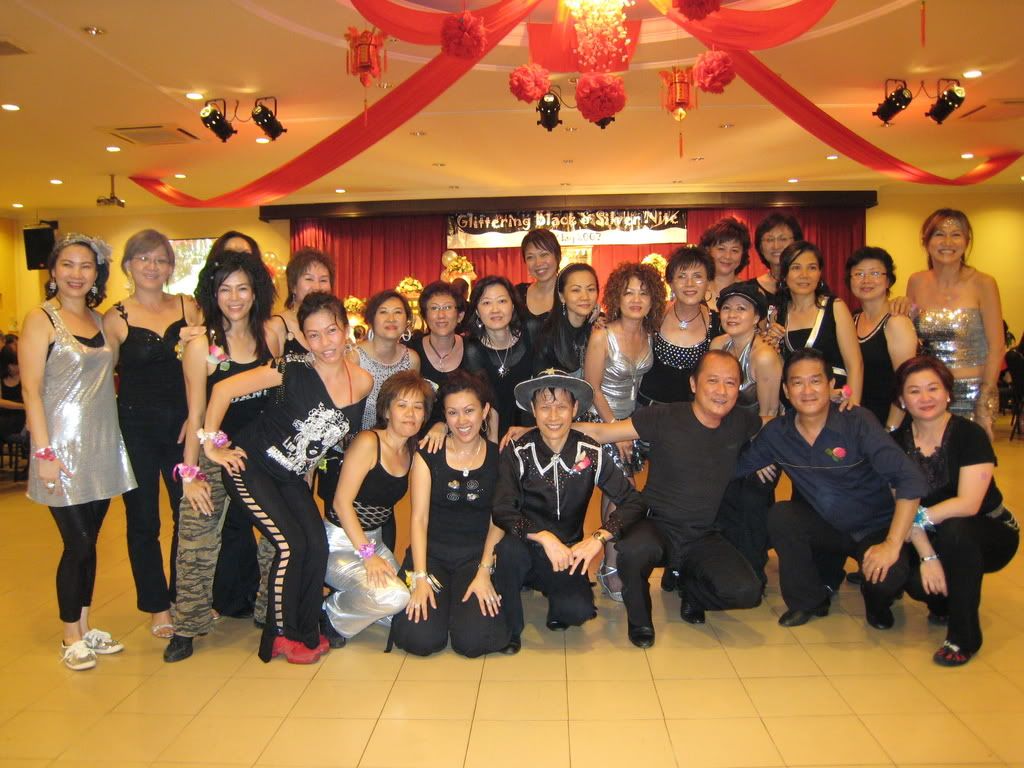 Group picture of line dance teachers who were present during the event. Notice the cowboy in the middle? He reminds me so much of Henry Kane in the movie Poltergeist II. Henry Kane is the old, twisted, undead reverend in the sequel. A very disturbing character that gave me endless nightmares.
Notice that he does bear an uncanny resemblance to Reverend Henry Kane. Must be the hat, or the teeth, or the nose. Oh man, creepy.
Line dance party picture collection is never complete without a shot with scrawny little girl.

..and also with my gurus.


Labels: Lifestyle
posted by DaphStar* @ 12:23 AM

Thursday, May 10, 2007
Girls Nite Out
I love a girls night out. We get to have dinner together, club, and talk unimaginable issues that guys would not want to hear. We can let go and be ourselves without having people to judge us. That is what girls night out is all about. And then of course we do crazy stuff in clubs like judging guys around us or probably get a partner for one of the girls to hook up with.

Anyways, the night started out with dinner at Max! located along Tengkat Tung Shin. They have done a good job turning the colonial houses into a chic restaurant but still maintaining the old charms.

Food was pretty good. I would say the appetizers were the best. Service was really good and fast with very friendly well trained servers. The only downside is the lighting which I thought was a bit too bright. So, I wouldn't recommend it for a romantic couple's dinner.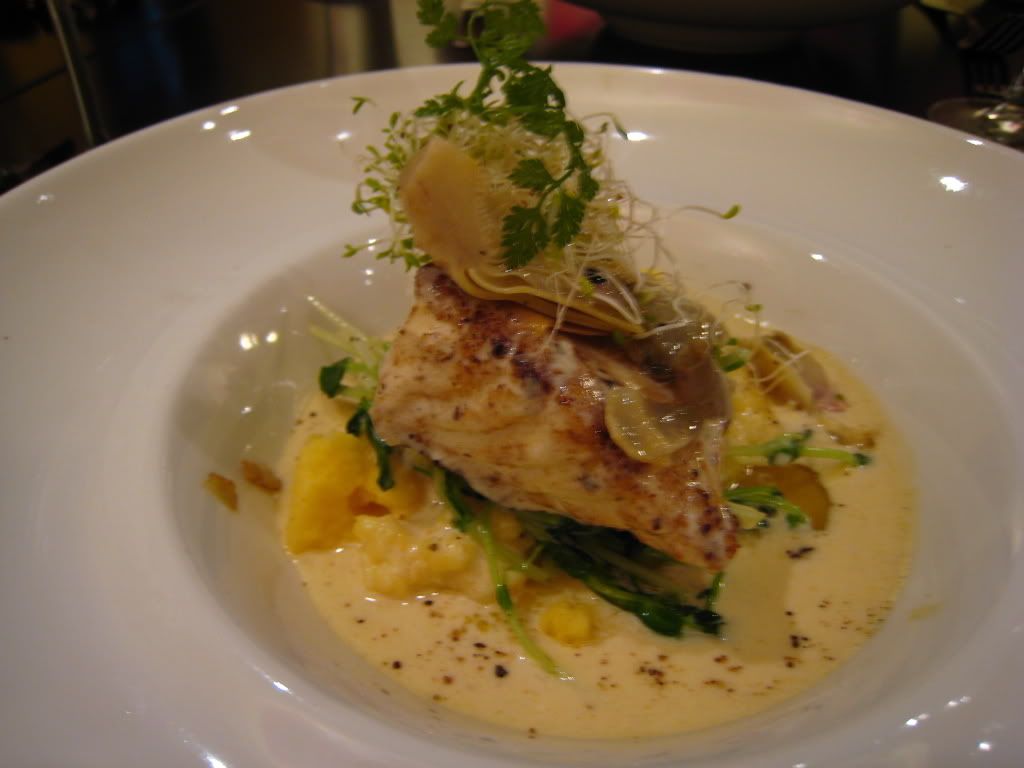 Had cod fish in lemon butter sauce as my entree.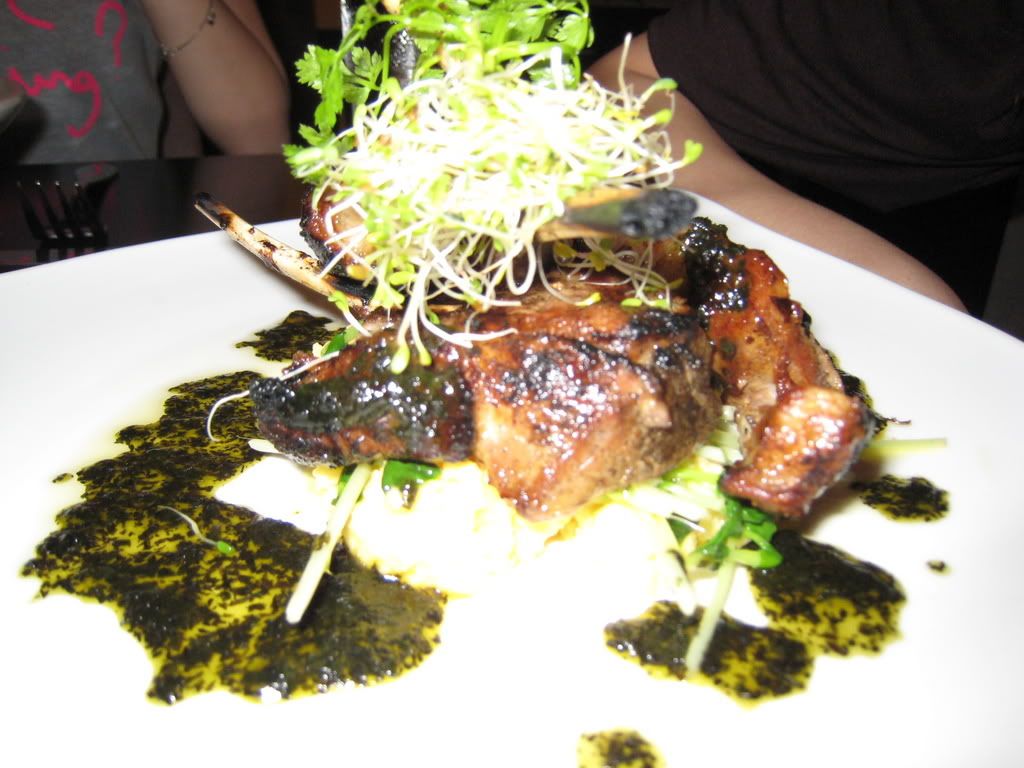 Alicia had Lamb cutlets in mint sauce. Oh yea, it was good too. (Picture a lil over exposed because of the flash)

And then of course my favs are the desserts. How can I resist a good gourmet dessert. So I had white chocolate pie, with chocolate flavored ice cream along with some syrup-soaked fruits.



And yea, we were stuffed after all the good food. Bleh. However, we were so psyched about going to Loft.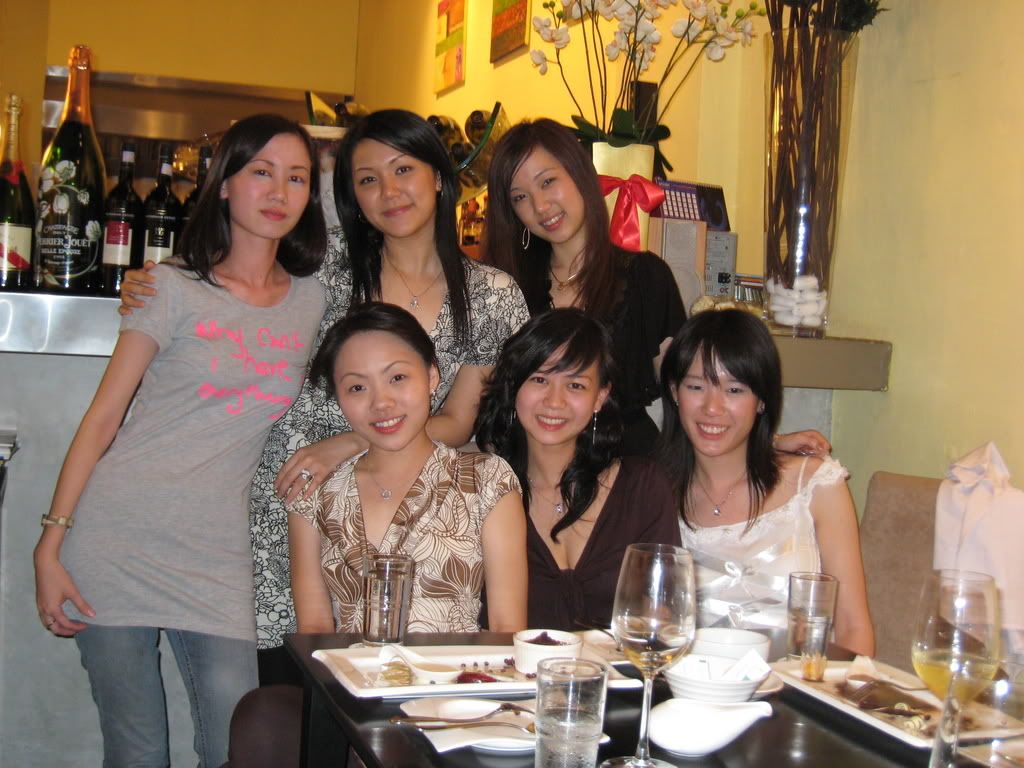 Me and my chicks. Make your choice. From left, Alicia, Chris,Pam,Kat,Mich. All single and quite available.



We were entertained to some models in Barbie skirts. I have my doubts on their gender somehow. One of them look too drag to be a female. The other has tattoos all over her body which is so not feminine at all. How do I confirm if they are truly females or a female in disguise?
My answer came later in the night.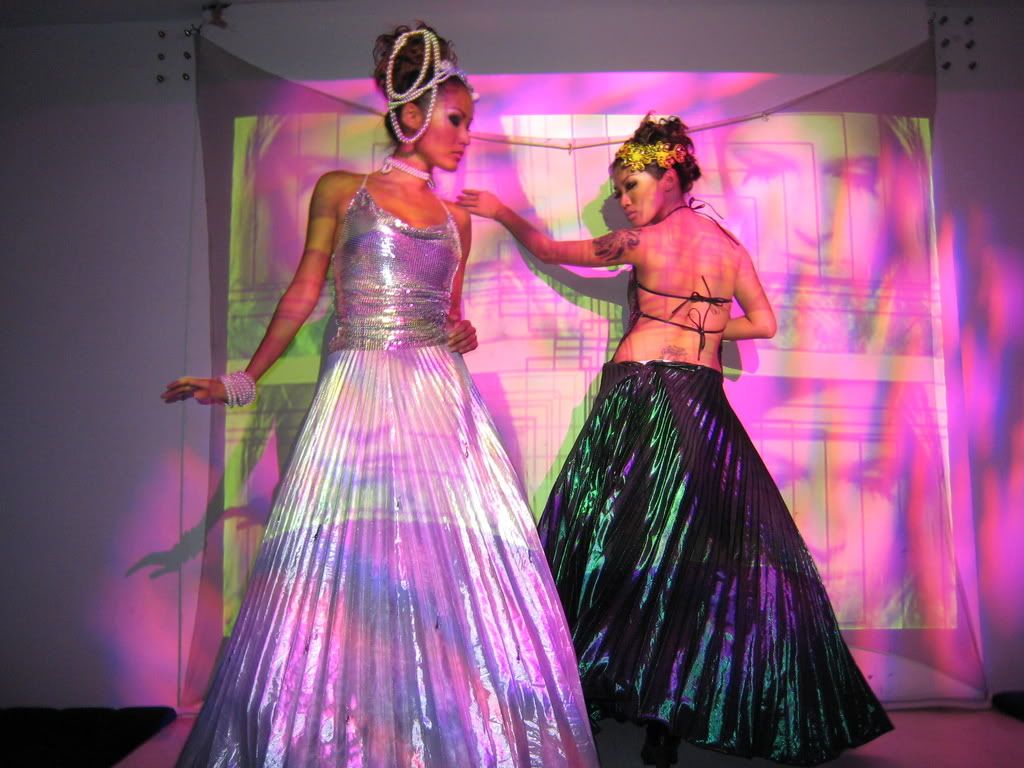 They were just dancing right above us and one of them ( the more drag looking one) was wearing a really short flair skirt. So, we were sitting really right below them while the danced to entertain us. Armed with my camera, I had to take shots from below.


Dang, not the shot I wanted! Have to turn off my flash to make it less obvious that I am trying to take an upskirt shot.

Daphne after a few drinks, can do shameless things. FINALLY I got my shot!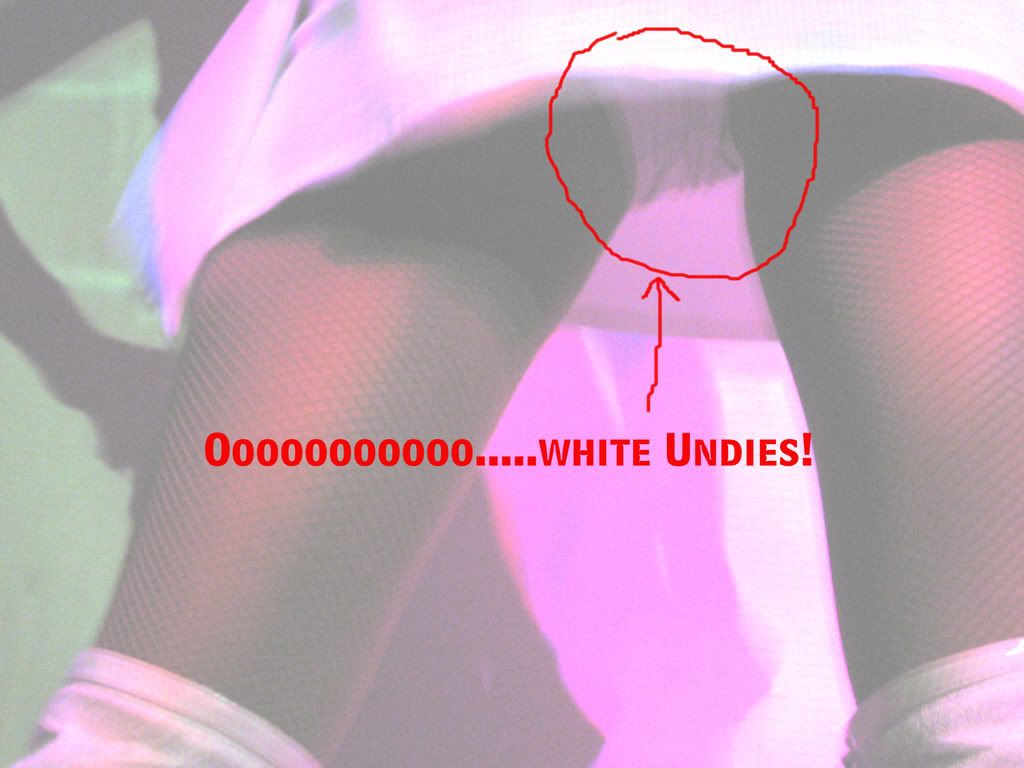 It is confirmed, its a female. See, no bulge or balls sticking out from either sides of the panties. This holds true in Malaysia but not in Thailand. Given the benefit of doubt, I will take it that she is a true female.

So you think only guys do stuff like these, trying to take an upskirt shot? Well, its a girls nite out like I said and we will do just about anything.

Labels: Lifestyle
posted by DaphStar* @ 7:51 AM

Tuesday, May 8, 2007
Kids these days...
....are very lucky! Yes, mummy and daddy will shower them with just about anything. My good friend, Alicia, in particular practically tsunamis her daughter with everything. Look at her birthday cake.


An erected Barbie doll in the cake. Her skirt is also part of the cake and can be eaten. So, is the doll amputated beneath the cake? Well, no, she is just bottomless and pantiless. If I were a mummy I would have done the same thing for my daughter...ha ha.I will have all things nice and sweet. Oh I how can I forget, the lucky kid.




The kid even know how to pose for the camera. How can you not pinch her cheeks. See, they have the same big round goo goo eyes. Baby Tricia will just grow up to be like her mummy.



I had big round marble eyes when I was young as well. But what happened??!! I am now well known for my slitty eyes.

Anyways when Tricia is 16, she will have the most kick ass birthday bash that I can imagine. Probably making an entrance in a helicopter, jewelries as door gifts and also the ultimate would most likely be a Veyron as her birthday present. I will await for that day to arrive.


Happy Birthday Tricia!

Labels: Lifestyle
posted by DaphStar* @ 7:23 AM

Tres Chic Fashion Show 2
Found more photos in my camera that weren't uploaded. This is the problem when you have a memory card of Gigabytes. Tend to abuse it by snapping nonsense and storing it in there forever.


Almost bought this dress. But then again, I do not have any occasion to wear it to. I like to model, however the tattoo on her arm is ugly. Girls should never tattoo on the arm! Appear too masculine and intimidating ok. So if you wanna get a tattoo, I would say, at places that you can conceal during the day and reveal during the nights ( which includes the bedroom). Now that I would say is SEXAY!


Oh, this model is sooo sweet. But the dress is just bleh.


Nice day cocktail dress. Don't you think models have very bad postures?! I now realize that they are bound to get lower back problems. They actually lean back sitting on their abdomen and stressing their tail bone for the sake of parading the garment. Isn't standing straight the best way to show off the piece of garment?

No camel toe this time.

Labels: Lifestyle
posted by DaphStar* @ 6:59 AM

Saturday, May 5, 2007
ASTRO joke
The most ridiculous thing I heard from my colleague this week. This is a real life account of what actually took place. It is a conversation between a Tamil series addict mum and her son.

Son: Ma, do you know ASTRO has 9 new channels? You just need to download it!
Ma : Oh really? How to download?
Son: Just turn off your ASTRO for 10 minutes and waa laa, you have new channels to watch.
Ma : Oh jolly good! Turn it off then!

Son turns off TV and decoder for 10 minutes and turn it back on.

Ma : Waaa, 24 hr Tamil series channel. A dedicated Indian music channel too. Now I am glued to ASTRO. This is great!
Son: Yes, enjoy then.

Son goes out to grab something and when he came back, his mum and aunt was reading the papers with the TV and ASTRO off. They were anxiously looking at the time as well.

Son : Ma, I thought you loved the new channels? Why did you turn the TV off?!
Ma : Son, just now you turned ASTRO off for 10 minutes and we had 9 channels. So I was thinking if we turned it off for an hour, can you imagine the amount of channels we will get! Maybe 50!

Son : *baffled*



Yes I am baffled as well. I thought only comic authors can come up with theories like that.

Labels: Lifestyle
posted by DaphStar* @ 2:46 AM

Wednesday, May 2, 2007
How to Flirt
Another one of my observation during the clubbing sessions. I was observing and trying to identify if a girl is flirting with a guy. Sadly, I am quite the 'kayu' and can never master the art of flirting or the art of seduction. One thing I learned, you don't need to be beautiful to be a seductress! Woo hoo. Now that is one good piece of motivation.
Ok, I had got all my observations jotted down in my lil' black book.

How to Flirt ( For Girls):

- Maintain good eye contact because it shows confidence. Also smile with your eyes when flirting to show your interest in the guy. Only make seductive eyes later in the conversation or if the person is drunk.




- Compliment the guy on maybe his shirt, or sense of humor. Don't compliment on his stature yet, worst still, telling him that he has a big package.

- Keep your body language open and inviting. ie: through the conversation, touch the person's arms lightly when telling a story. Maintain good eye contact at all times but don't stare cos it is uncomfortable. Act shy once in a while by staring down and then looking back at him.



- Initiate stimulating conversation. Ask open-ended questions maybe about the flirtee's family, pet, job, hobbies.....etc. Do not ask about his sex life or whether he has or does not have foreskin intact.

- open up more about yourself to give him more reason to be interested in you. However, don't go on and on and dominate the conversation. The goal is to intrigue and not to bore.

- Always be alert at looking out for the flashing red light. If detected ( meaning he is uninterested) then make your exit gracefully.

- Pay attention to personal space. If you are successful at gently touching the arm of the flirtee, that means he has no issues with personal space and you have broken that barrier. Otherwise, watch out for the red flashing light that you have violated the person's personal space.

- Finally progress in your flirting if everything seems ok. Lead him into closing the deal be it a date , a dance , a kiss , or if there is *ehem* sexual connection then proceed with a proper rendezvous.


Flirting is supposed to be fun and healthy. Without you realizing it, you can be flirting sometimes just to get attention. Couples need to flirt with each other every now and then to maintain that romance and spark in their life. Singles flirt to prospect their future partner.
Flirting is harmless fun, so just enjoy and do it responsibly. Yes, Drink responsibly and Flirt responsibly.

Labels: Offbeat
posted by DaphStar* @ 10:56 PM

About Me
Name: DaphStar*
Home:
About Me:
See my complete profile
*Star Chatz
*Starz Count
Free Counter
*Star Postings
Previous Post
Archives
*Star Homiez
*Star Boutiques
*Star Tunez
* 1) Bartender - T-Pain
* 2) Shawty - Plies Feat T-Pain
* 3) Valentine - Lloyd
* 4) Get It Shawty - Lloyd
* 5) Buy You A Drank- T-Pain feat Young Joc
* 6) Tambourine - Eve
* 7) Wake Up Call - Maroon 5
* 8) Little Of Your Time - Maroon 5
* 9) LoveStoned - Justin Timberlake
* 10)Buddy - Musiq Soulchild
List of Weird Names
Black Lim
Dadmond Tan
Auto Yap
Bacon Lim
*Star Visitors
*Star BlogLog
Powered by