Wednesday, September 26, 2007
Stupidly awesome
The first time I was introduced to Friendster, I thought it was a stupid idea of people posting their pictures up for their friends to view it. It's quite meaningless to spend the entire night browsing through the myriad of profiles searching for people you know. Oh yea, and for guys their motive is to tag the chicks who are in their network. For some others, its a race to see who has the most friends. Sometimes it gets too ridiculous that certain people has to open 2 or 3 accounts just to accommodate the list of their 'friends'. Right now you can even make yourself a superstar by re-terming friends as fans. Anyhow, friendster's days are over and many people are phasing out from it except for a bunch of Filipino chicks are still actively promoting themselves.


I am too slowly phasing out of friendster. I must admit that I have to thank friendster for giving me the opportunity to actually build better relationship with my long lost friends. Thank you thank you but I am just bored of friendster right now.

I have recently found my new interest. Also a social networking site but even interesting. The Facebook has become a permanent fixture in my daily schedule.


Facebook allows you to add on thousands of interesting application that are very interactive. Unlike friendster, you can actually create an activity among friends in your list. Right now , I'm hooked onto the Counter Strike application. It may seem lame, because there is no actual shooting involved, but it is addictive because its a race to see who gets the highest rank. Like I said, certain things that may seem stupid at first can turn out to be quite awesome. So, I'm hooked onto Facebook, which explains my hiatus recently.

If you haven't had a Facebook account yet, try to get one.Like I said, it is stupidly awesome.

Labels: Lifestyle
posted by DaphStar* @ 9:47 AM

Wednesday, September 19, 2007
Mawi Mawi Mawi...
Mawi is everywhere and he is getting on my nerves. Who is he? Yea sure he won some singing talent contest but I seriously haven't heard him singing before. Does he do the boyband songs well, or the falsetto? I mean, Mawi sings??!!! He can sing??

Well, unfortunately the masses dig guys who look like him. That is why companies are using him in their ads practically everywhere. The fact that he endorses a certain product makes me avoid that product at all costs. For example the M.Mobile. As it is, it is a Malaysian made mobile which costs probably just as much as an imported mobile. Who the heck would use it? And all the better, they get Mawi to endorse it, bummer! So not convinced to buy a stupid phone called M.Mobile. Its just not cool and reliable.


And then Mamee saw the 'bad' trend and got Mawi to endorse for them as well. What's worst, they printed his face on every freaking instant noodle cup. I like Mamee instant noodles, especially the tom yam flavor. Its just fantastic. However, after I saw this ad and this face on every cup, I swear I am avoiding Mamee until someone new endorses it.



EEwwwwww
As if his image on the instant noodle cup is not enough to spoil my appetite, he even came up with his own brand of mineral water!
If this doesn't annoy you, you are better off pursuing a career in Rempit-ing.
So I guess, Mawi is really hot huh. He thinks he has endorsed every product there is and raking in cash like nobody's business. I have a good idea for him to expand his market segment. Since he is in the business of endorsements, why not endorse our favorite foods! Nothing else is tastier than a good pot of Klang Bak Kut Teh. I think this will be a good start for him to penetrate the Chinese cuisine market.
Bagus Teh! Memang Bagus, memang lazat! Mawi suka makan.

Then there is the mouth watering Char Siew , when done properly, it will melt in your mouth like cotton candy.

Labels: Offbeat
posted by DaphStar* @ 9:33 AM

Thursday, September 13, 2007
Catch the minister contest!
Roughly translated, Catch the dog contest organized by the Selayang Municipal Hall. What kinda monstrosity is that, especially in this era! Dogs are not aggressive unless confronted or stoned at. Well, I will be aggressive and bite anyone with I was being stoned at! Hey, no one thought about cats?

Cats are rodents these days you know. They sneak into our houses like thieves, pee and poop in the garden, climb to the top of the car , sometimes into the engine bay, break the windows, and the male cats are super aggressive when confronted! Why don't they organize a cat killing competition as well! Dogs are more intelligent than retard cats. So, stop killing the dogs but kill the mentally retarded ones!



Oh or even better, catching the Menteri Besar competition. Yes, the MB who approve of this inhumane act. A bonus would be given to those whom manage to catch both the MB and the head of Selayang Municipal hall.


Labels: Issues
posted by DaphStar* @ 7:37 AM

Sunday, September 9, 2007
Nghiok Nghiok Nghiok
You know how contagious some people's laughter can get? I mean like the joke is not funny but the laugh is so funny you can laugh non stop for a good 10 minutes and get defined abs after that and probably urinate in your pants? Watch this and you'll understand why the title is as such.




Labels: Offbeat
posted by DaphStar* @ 9:13 AM

Wednesday, September 5, 2007
Glitz n Glitter
Went to a dance party last week in this god forsaken place called Serdang ( sorry, its because I really couldn't find my way and almost cried when I was lost in some Chinese ghetto). The theme was glitz n glitter and knowing those aunties who has all the time in their hands, they will go to the party dressed up like some show stopper super glitzy star.
True enough there was a potpourri of peculiar outfits.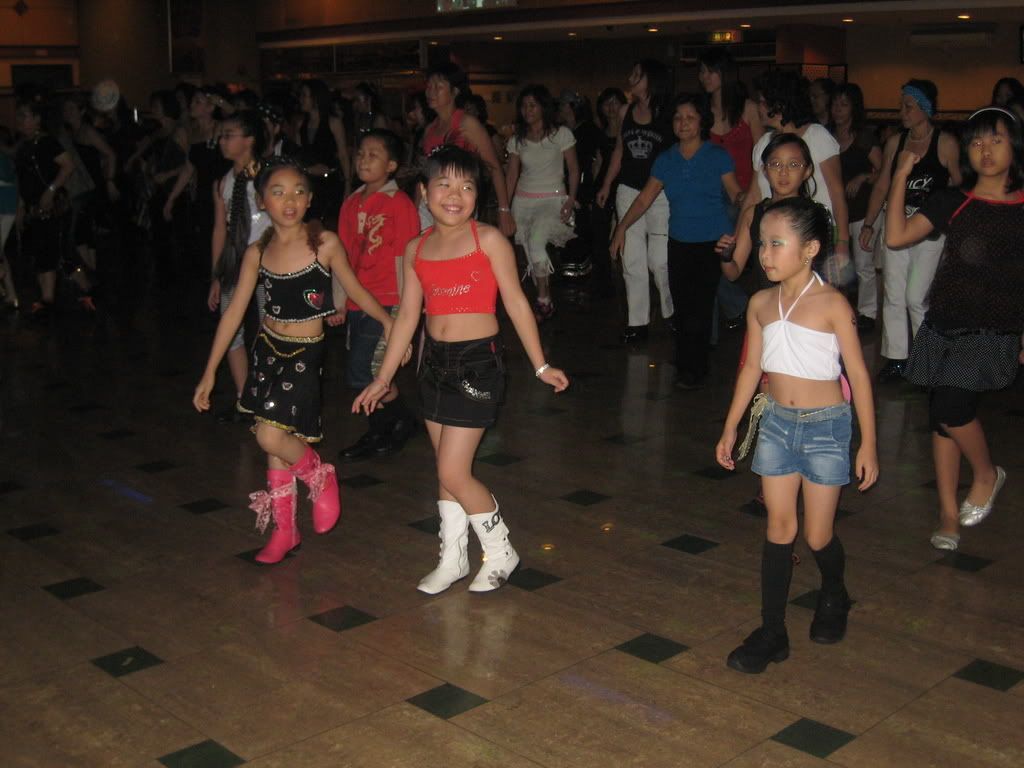 Do not dress your kids in skimpy outfits. It has to be instilled in them that outfits like that are not alright unless you plan to embark on a career as a "dancer"(like the ones I see in Loft)


The lady in gold really went all out to actually create and design her own outfit! However, she truly has a heart of gold. She was the cash sponsor for this event.



The event was not only filled with aunties ok. There was a hot chick too. I'm liking her outfit, it's cute and sexy at the same time.


And not forgetting the MILFs. This is one super hot mom. She's in her 30's , has 2 kids and look, she has a body of a Goddess. All the more enticing when wearing this sheer dress. I say she's a real MILF, what say you. She will be my role model when I am married with kids in future.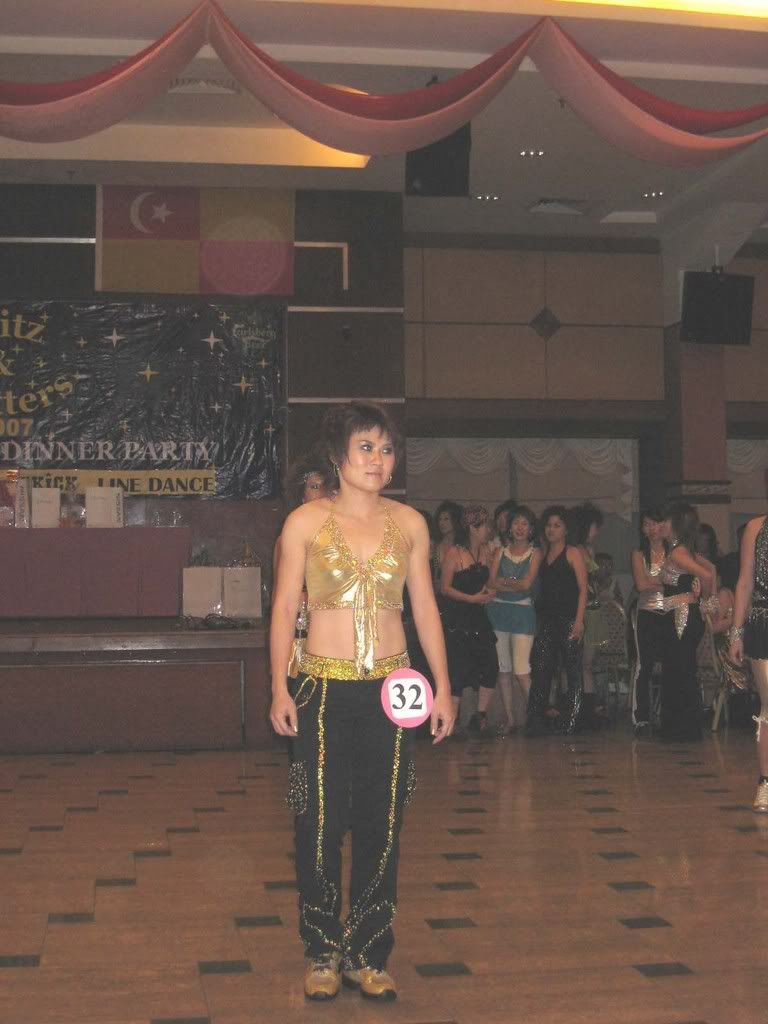 Another hot mum. She has side of stomach muscles!


And then someone really caught my eye. She stood out from the crowd like a mirror reflecting sun light from a bush.

Somehow this outfit looks very Moulin Rouge to me. And when I think of Moulin Rouge I think of France. And when I think of France and the cap on her hair, the word French cap came into my mind. She was one of the contestant in the above 50 yrs of age category. Well, guess what......


Miss french cap was the winner in her category.

The interesting people I meet every time I go to a gathering like this.

Labels: Lifestyle
posted by DaphStar* @ 7:14 AM

About Me
Name: DaphStar*
Home:
About Me:
See my complete profile
*Star Chatz
*Starz Count
Free Counter
*Star Postings
Previous Post
Archives
*Star Homiez
*Star Boutiques
*Star Tunez
* 1) Bartender - T-Pain
* 2) Shawty - Plies Feat T-Pain
* 3) Valentine - Lloyd
* 4) Get It Shawty - Lloyd
* 5) Buy You A Drank- T-Pain feat Young Joc
* 6) Tambourine - Eve
* 7) Wake Up Call - Maroon 5
* 8) Little Of Your Time - Maroon 5
* 9) LoveStoned - Justin Timberlake
* 10)Buddy - Musiq Soulchild
List of Weird Names
Black Lim
Dadmond Tan
Auto Yap
Bacon Lim
*Star Visitors
*Star BlogLog
Powered by