Thursday, August 30, 2007
Our Founding Fathers

We truly have to thank our founding fathers for the 50 years of Independence of our country. Without them, I think we will be speaking better English and earning Cambridge degrees. But because of them, we are oh so fluent in Bahasa Malaysia, thanks to the ever changing education system which does not seem to stop. But they have made us what we are today and we have been looked up to by other nations who used to struggle like we once did.

Firstly, Tunku Abdul Rahman, our Father of Independence did the most difficult job , unifying the 3 major races in Malaysia to negotiate with the British. I think that was the hardest thing to do at that time because the British has this super big ego which makes the natives of the land that they invade low lives. Despite all of that, he managed to chase the British out of the country peacefully, without a war I tell you. So, he absolutely deserve to be glorified as our Father of Independence. Without him, we won't be having dancing horses and laser shows in the Merdeka Stadium tonight.

After shoo-ing the British out of the country, there is a lot of development to do in the country. Hence we have Tun Razak as our Father Development to thank. Of course, thanks to him, the NEP was born. It was the era of post independence, development of the education system, and development of the economy for future complexities.

Tun Hussein Onn was our Father of Unity. Errm ok...so he carried on the policies of the previous leaders and promoted a lot of unity in the country. It was very crucial at that time to avoid another 13 May 1969. How is a nation going to grow if everybody is going to stand only for themselves and not united? How are we going to produce so many beautiful people if we don't blend with each other? Unity is paramount towards building a powerful nation.

Then of course the longest serving PM in the country whom contributions are more significant ( for me at least) to the nation and the world. He did put our country on the road map and if it was not for him, people from the outside world would still be thinking we live on tree tops with a proper sanitation system. He glorified our country by making us the leader to 3rd world countries. He made sure we host International events like the F1 and Commonwealth Games. These events instantly gained Malaysia global recognition. It was during his administration that we our nation have a set vision and everybody really thrived towards it. Vision 2020 was everywhere and there's no escape from this propaganda. There for the title "Father of Modernisation" was bestowed upon Tun Dr Mahathir for putting us on the global road map.
Unfortunately, there are still some stupid ignorant Americans whom still think we do not exist but Thailand and Singapore do. More so they are stupid enough to believe that we still live on tree tops with advanced sanitation system. So, the Americans should look into their education system because it is known that many high school kids can't even point out their own country on an atlas!

And last but not the least, we have our very favorite Pak Lah.
Please choose the best answer for the question below

Pak Lah, Father of ____________.

1) all Datuks
2) Muhibbah
3) Fastest Chick hunter after your wife has passed away
4) Do whatever you want (You can build a castle in a kampung and get away with it)
5) Refurbishing government offices
6) Tidak apa


I seriously ran out of ideas.

Anyways, he will always be our Mr Nice Dude. Too nice that vision 2020 seems blurry these days.

Happy 50th Merdeka!

Labels: Issues
posted by DaphStar* @ 7:26 AM

Saturday, August 25, 2007
Brazilian wax
I paid a visit to The Ministry of Waxing yesterday.
Ok I really didn't know they were the Ministry of Waxing cos I was recommended for their Nail services ( yea, my mani and pedi ritual). Anwayz, Ministry of Waxing is specialize in Brazilian waxing. Before stepping into this parlor, I only knew that Brazilian meant stripping every piece of hair from your pubic area but when i picked up the brochure, there was a list of Brazilian waxing packages.


There are actually 9 Brazilian waxing packages offered in this parlor. Price on the right is for semi permanent hair removal, price on left is for the normal hair removal service.

I am still trying hard to figure out what does the Crack (hard wax!) service is. You mean they actually wax off hair from the butt crack using hard wax?! I know waxing that part is painful enough what more hard wax. Do they like drip wax on the crack, wait for it to harden before pulling the entire piece of wax off? I don't want to visit the toilet for a week after that.

The interesting parts are the xxx strip.

1) x strip( clippering down the front)

So its just basically snipping off the hair and not waxing I guess. That would mean there are still bushes left for those who seek SOME jungle adventure.

2) xx strip (full bikini)

Some women actually have hair sprouting out from their inner thighs near the groin area. So if you were to wear a bikini with hair sprouting from both ends, its gonna look like some seaweed stuck to your bikini. Stripping the bikini line is important.

3) xx strip extra ( full bikini)

Extra stripping meaning with massage as well?

4) xxx strip ( labia + bottom + design)

ohhh...the normal package doesn't include waxing off the labia? The labia area is very tender and only a specialist will be able to strip the labia with extra care. Bottom? I am guessing its the area close to the anus. Waxing off that area would hurt like hell! This is all for the benefit of our man or men. This package even comes with a design. Wow, are designs actually a turn on? I mean men, do you need us to have an arrow to indicate where you should go for enjoyment?

5) xxxx strip ( all off)

My suggestion is to wear a skirt when going for waxing. After that, it is better to keep your panties in your handbag because airing 'it' actually soothes the pain.


I don't think I will try the Brazilian anytime soon. It feels weird spreading for another female. What if she's a lesbo, then I'm in trouble.

Labels: Lifestyle
posted by DaphStar* @ 7:04 AM

Thursday, August 23, 2007
Shorts shorts shorts!
Summer is still lingering, as in summer fashion and shorts are still hawt! Yes, structured, textured shorts are rampant in fashion houses. Why are they so popular? Well, of cos its the weather that permits us to wear shorts and it has and will always be the sign of a jolly good day.

Shorts are the versatile piece of clothing you can ever own.

Wear if while working out.

Wear it to the mamaks.

Wear it to the malls.

Wear it while taking the doggy out for poo poo.

Wear it even to the clubs. Yes, it is acceptable for us girls to wear shorts for clubbing.

And so you ask, how to wear shorts for every occasion?
This is how the celebrities do it.



From left:

Mischa Barton pairs her LV shorts with a striped cardigan and peep toe heels for an after-dark outing. Very glam. It is acceptable to wear this outfit to posh diners.

Jessica Stam (a model) wears her shorts with a pair of flats. Perfect for that stroll in the mall during weekends.

Alessandra Ambrosio *slurps*. How not to look slutty with shorts and boots. Alessandra Ambrosio displays the absolute perfect way of pairing these two and make it look very sexy. Of course you gotta pair it with a pair of almost nude boots and never black leather ones. The scarf gives just the right amount of coverage for the exposed areas but at the same time it is sheer. Only someone with a body of a goddess can pull off a look like that.

Kate Moss wears her black tailored shorts well with a long sweater and white top tucked in. To complete the look, she pairs it with a pair of wedgies which makes her look oh so perfecto.

Keira Knightley pulls of this smashing look with a cropped jacket over a long loose t-shirt. Oh yea, not forgetting the fashion staple, big handbag and big pair shades.

Oh and of course make sure your legs are shaved when wearing shorts. Even stubs are not acceptable. If there are scars, don't be lazy, use a concealer.

Labels: Fashion
posted by DaphStar* @ 4:47 AM

Monday, August 20, 2007
Sports gone sexy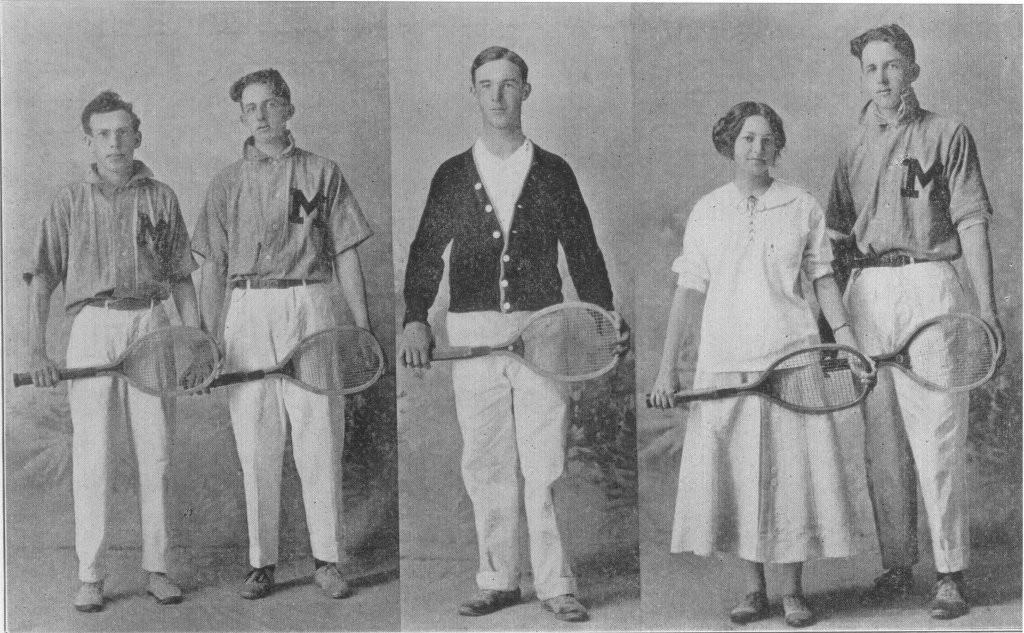 We have witness (maybe our parents have) the evolution of women's sports attire. I am talking about women's tennis attire in particular. In the olden days, tennis used to be the sport of the affluent. So, women will be dressed in their fine gowns and hats while playing the sport. And then I guess women got a little more aggressive in the sport and decided to chase every shot which made gowns and hats really inconvenient to play in. So women got a bit more daring and the outfit shrunk and shrunk and shrunk over the years. It shrunk until it became a sport of boobs, bootie and biceps.


How else sexier can you get with tennis attire these days. Tennis is no more about polo tees and mini skirts. Its all about designer wear. The sexiest gets the attention.



I think the evolution for tennis attire should just end right here. That's enough. The girls can move really well it those skimpy outfits.
So, what about golf then? I just started golf like 2 weeks ago and I am really into it right now.
Ladies golf attire are really boring, same ol' polo tee and pants.

If I can't excel in the sport, I think I shall grab attention on the golf course by revolutionizing the way women golfers dress. Inspired by the way tennis stars dress these days, I think women golfers should dress the same way too! Of course, I gotta slap lotsa sun screen when playing golf as well and not forgetting the visors.

Ok, for starters, I guess I'm gonna make the mini skirt the staple of my golf attire. How to make the attire even sexier?? Well, throw in a pink bustier and that will for sure grab lots of attention when bending down to retrieve the ball after putting into the hole.





Tube top a little inconvenient after a full and through swing?(With so much boobs pushed up in that bustier, nip slip is bound to happen) So, back to the old fashion sleeved polo top but with a little twist.


A low neck line midriff-baring polo top. This top will definitely keep boobs in check while still baring a little bit of cleavage and some abs. Uber sexy outfit for golfing.

If the professionals adopt these outfits, golfing will never be the same again. Men won't dread to play with weaklings (ie: women) anymore, instead they will go to the ends of the world to make sure they have a lady in their flight.

Till then men, pray and hope that there will be super sunscreen product in the market that will entirely block out the skin from all sun rays like an invisible leather suit for 6 hours. Only then, women will wear mini skirts and cropped polos for golfing.

Labels: Fashion
posted by DaphStar* @ 6:03 AM

Thursday, August 16, 2007
Patriotic Toe-riffic!
As previously mentioned, I am totally in love with pedicure and manicure. Since I can't actually decorate other parts of my body ( cos I don't dare to attempt tattoo), I have resorted to nail art.
Getting a manicure and pedicure is pampering! It feels like royalty when people actually bend down to wash your feet and start scraping dirt out of it. So, these are my latest nail art.


Lilac with some mod flower design
Butterfly design
Abstract leaf design
Merdeka is approaching I think I should do my patriotic duty to display the national flag somewhere. Hanging the flag off the car is too common and way too irritating. Can't stand it flapping on the car when I am speeding.
I guess the next most creative way is to show my patriotism on my nails in the form of nail art! Wearing the Malaysian flag has been done before. But wearing it on the nails is something I have yet see. Since this Independence day is a significant one, I shall do something significant as well.
MERDEKA on my feet. Merdeka my foot??!!!
The flag is getting too cliche actually. Since we love our country, we have to love our leaders that has brought this nation to what it is today right? I'm getting off this flag cliche and shall love my country leader. It is time to pay tribute to his high excellency.


Labels: Offbeat
posted by DaphStar* @ 8:06 AM

Friday, August 10, 2007
Dog doing human style
You think doggy style gives better satisfaction than human style? Well, this doggy think otherwise.
He thinks wanking is cool, what more in public. This doggy certainly has a wicked fetish.





Its 'thing' is a little too long for a small doggy.

Labels: Offbeat
posted by DaphStar* @ 9:36 AM

Thursday, August 9, 2007
Pole Dancing for fitness
Hmm...since when erotic dancing became a form of fitness acceptable by the community? It all started off with belly dancing, a dance of seduction. Then there was lap dance and pole dance for fitness. How cool is that! You can do pole dancing at the gym!

I am not sure if there is a pole dancing class in Malaysia yet, but it is definitely a hit in the West. Pole dancing is great. It helps tone the body from head to toe. Of course it helps tones. Checkout the moves a pole dancer does.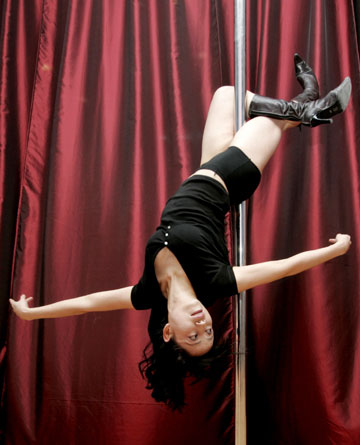 You need hell of a good abs to do that stunt.

There are names to pole dancing moves as well: back hook, chair, fireman, fairy, crucifix, chair slide, and sun wheel. I think I can only figure out what fireman move is, just spiral down the pole that is.


Have you ever seen a fat and flabby pole dancer???


Err, from my observations, the fat ones stay on the floor and offer lap dances. Therefore, pole dancing will definitely develop muscles at the right parts to give a tone and kick ass body.

Soon it will become a fad and maybe you'll be seeing aunties going for lessons as well. Aunties need to seduce their husbands as well ok. Aunties these days are very hip and happening, dun pray pray. I shudder at the thought of an auntie giving a pole dance performance in a function.

Labels: Lifestyle
posted by DaphStar* @ 9:34 AM

Saturday, August 4, 2007
Suckle on toe-sicle
Lately I have been obsessed with manicure and pedicure. I think its the nail art fascination that got me all crazy. Also I'm obsessed with cutting my cuticles and any hardened skin around the nail area. Basically nail grooming has become an obsession.

I believe its proper manners for women to have their nails groomed properly. If you don't groom it before painting it which most women does, the result is disastrous. I mean at least soften the cuticles and push it back will do. Or maybe scrub to remove the dirt in between nails would even do some good. Can you imagine dirt that have been stuck in between the toenails forever?? It will stink really bad. So guys, the next time you're thinking about really pleasuring your woman by sucking her toes, think twice. You might be licking the accumulated dirt in between the nails as well. Make sure your girl gets pedicure done weekly before you give her the sensual toe sucking.

So, back to my obsession with nail art. Some designs can be way over the top.
Have a look at these.


Fruits on nails...looks like pieces of shit stuck on your nails. Sorta like colorful booger.


Definitely can't dig your nose with nails like these!



Mind blowing!


Also, I think that it is only proper to remove any unwanted hair on the toes, especially the mother toe. Look at this and you will know what I mean.




Shave off those atrocious hair! See what happens if you don't get a pedicure and wear summery sandals?? It is of cos, ATROCIOUS! So girls, if you do have the fine bits of hair growing from your toes, please remove it by all means. You don't want your man to suckle on your toesicle in that condition.

Be NAILICIOUS and go to your nearest mani pedi salon. Guys too must do the same.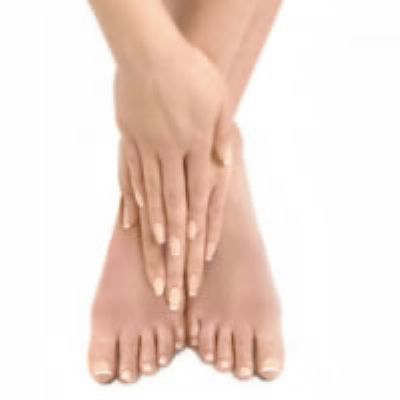 Labels: Offbeat
posted by DaphStar* @ 3:53 AM

About Me
Name: DaphStar*
Home:
About Me:
See my complete profile
*Star Chatz
*Starz Count
Free Counter
*Star Postings
Previous Post
Archives
*Star Homiez
*Star Boutiques
*Star Tunez
* 1) Bartender - T-Pain
* 2) Shawty - Plies Feat T-Pain
* 3) Valentine - Lloyd
* 4) Get It Shawty - Lloyd
* 5) Buy You A Drank- T-Pain feat Young Joc
* 6) Tambourine - Eve
* 7) Wake Up Call - Maroon 5
* 8) Little Of Your Time - Maroon 5
* 9) LoveStoned - Justin Timberlake
* 10)Buddy - Musiq Soulchild
List of Weird Names
Black Lim
Dadmond Tan
Auto Yap
Bacon Lim
*Star Visitors
*Star BlogLog
Powered by