Thursday, August 9, 2007
Pole Dancing for fitness
Hmm...since when erotic dancing became a form of fitness acceptable by the community? It all started off with belly dancing, a dance of seduction. Then there was lap dance and pole dance for fitness. How cool is that! You can do pole dancing at the gym!

I am not sure if there is a pole dancing class in Malaysia yet, but it is definitely a hit in the West. Pole dancing is great. It helps tone the body from head to toe. Of course it helps tones. Checkout the moves a pole dancer does.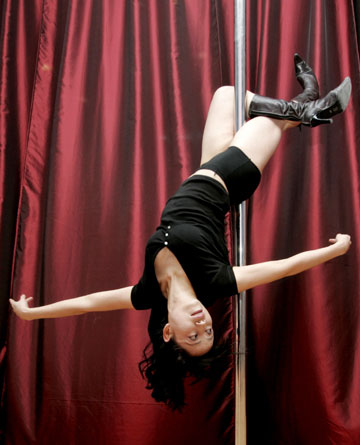 You need hell of a good abs to do that stunt.

There are names to pole dancing moves as well: back hook, chair, fireman, fairy, crucifix, chair slide, and sun wheel. I think I can only figure out what fireman move is, just spiral down the pole that is.


Have you ever seen a fat and flabby pole dancer???


Err, from my observations, the fat ones stay on the floor and offer lap dances. Therefore, pole dancing will definitely develop muscles at the right parts to give a tone and kick ass body.

Soon it will become a fad and maybe you'll be seeing aunties going for lessons as well. Aunties need to seduce their husbands as well ok. Aunties these days are very hip and happening, dun pray pray. I shudder at the thought of an auntie giving a pole dance performance in a function.

Labels: Lifestyle
posted by DaphStar* @ 9:34 AM

About Me
Name: DaphStar*
Home:
About Me:
See my complete profile
*Star Chatz
*Starz Count
Free Counter
*Star Postings
Previous Post
Archives
*Star Homiez
*Star Boutiques
*Star Tunez
* 1) Bartender - T-Pain
* 2) Shawty - Plies Feat T-Pain
* 3) Valentine - Lloyd
* 4) Get It Shawty - Lloyd
* 5) Buy You A Drank- T-Pain feat Young Joc
* 6) Tambourine - Eve
* 7) Wake Up Call - Maroon 5
* 8) Little Of Your Time - Maroon 5
* 9) LoveStoned - Justin Timberlake
* 10)Buddy - Musiq Soulchild
List of Weird Names
Black Lim
Dadmond Tan
Auto Yap
Bacon Lim
*Star Visitors
*Star BlogLog
Powered by