Monday, July 9, 2007
Falling Sensation before sleep
I don't know how many of you out there experience this but I do experience this every single night before I fall asleep. I practically FALL before I fall asleep. How do I know that I fell? I feel my whole body jerking before I go into a deep sleep. You know, the 5 different stages of sleep which eventually leads to REM ( Rapid Eye Movement).

Shall not go into the details of the stages of sleep because it can become very technical. However, I am still amazed at this phenomenon. I believe I am not the only one who experiences this falling and jolting sensation every time before I fall asleep or go into a deep sleep. And the dream of me falling is always the same....either from a staircase or into a drain!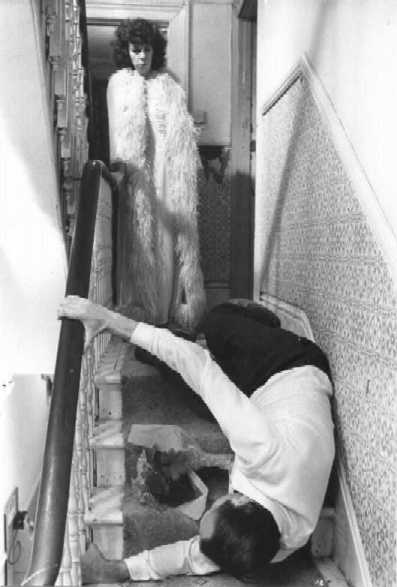 Its a scary feeling to fall. My body sort of like goes into a shock when I dream that I am falling. It is like a prequel to my dream sequence.

So why is this happening to me? I decided to take this issue to the forum of unexplained mysteries.

This phenomenon apparently is called a

hypnic jerk

. According to Wikipedia, it is an involuntary muscle twitch which often happens during transition from wakefulness to sleep. Hypnic jerks are completely normal and are experienced by most people especially when they are over-tired or sleeping uncomfortably.

What causes it? Sadly there is no clear cause but there are hypotheses. The jolts are a normal part of the sleep process , as is slower breathing, and lowering of body temperature. The feelings associated with relaxation before sleep is misinterpreted by the brain as a falling, and by reflex the body jerks out the limbs to stay upright.

Sounds quite logical to me. At least I don't have to believe that my soul doesn't leave my body when I fall asleep (which causes the jolt) and come back when I am about to wake up.


Labels: Issues
posted by DaphStar* @ 8:13 AM

About Me
Name: DaphStar*
Home:
About Me:
See my complete profile
*Star Chatz
*Starz Count
Free Counter
*Star Postings
Previous Post
Archives
*Star Homiez
*Star Boutiques
*Star Tunez
* 1) Bartender - T-Pain
* 2) Shawty - Plies Feat T-Pain
* 3) Valentine - Lloyd
* 4) Get It Shawty - Lloyd
* 5) Buy You A Drank- T-Pain feat Young Joc
* 6) Tambourine - Eve
* 7) Wake Up Call - Maroon 5
* 8) Little Of Your Time - Maroon 5
* 9) LoveStoned - Justin Timberlake
* 10)Buddy - Musiq Soulchild
List of Weird Names
Black Lim
Dadmond Tan
Auto Yap
Bacon Lim
*Star Visitors
*Star BlogLog
Powered by