Saturday, August 4, 2007
Suckle on toe-sicle
Lately I have been obsessed with manicure and pedicure. I think its the nail art fascination that got me all crazy. Also I'm obsessed with cutting my cuticles and any hardened skin around the nail area. Basically nail grooming has become an obsession.

I believe its proper manners for women to have their nails groomed properly. If you don't groom it before painting it which most women does, the result is disastrous. I mean at least soften the cuticles and push it back will do. Or maybe scrub to remove the dirt in between nails would even do some good. Can you imagine dirt that have been stuck in between the toenails forever?? It will stink really bad. So guys, the next time you're thinking about really pleasuring your woman by sucking her toes, think twice. You might be licking the accumulated dirt in between the nails as well. Make sure your girl gets pedicure done weekly before you give her the sensual toe sucking.

So, back to my obsession with nail art. Some designs can be way over the top.
Have a look at these.


Fruits on nails...looks like pieces of shit stuck on your nails. Sorta like colorful booger.


Definitely can't dig your nose with nails like these!



Mind blowing!


Also, I think that it is only proper to remove any unwanted hair on the toes, especially the mother toe. Look at this and you will know what I mean.




Shave off those atrocious hair! See what happens if you don't get a pedicure and wear summery sandals?? It is of cos, ATROCIOUS! So girls, if you do have the fine bits of hair growing from your toes, please remove it by all means. You don't want your man to suckle on your toesicle in that condition.

Be NAILICIOUS and go to your nearest mani pedi salon. Guys too must do the same.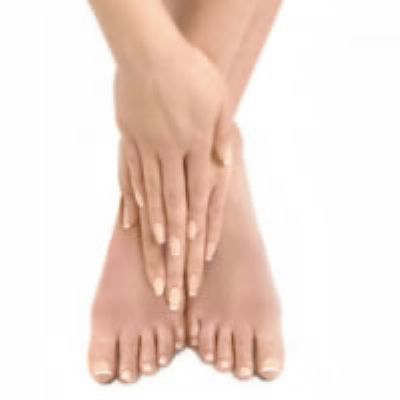 Labels: Offbeat
posted by DaphStar* @ 3:53 AM

About Me
Name: DaphStar*
Home:
About Me:
See my complete profile
*Star Chatz
*Starz Count
Free Counter
*Star Postings
Previous Post
Archives
*Star Homiez
*Star Boutiques
*Star Tunez
* 1) Bartender - T-Pain
* 2) Shawty - Plies Feat T-Pain
* 3) Valentine - Lloyd
* 4) Get It Shawty - Lloyd
* 5) Buy You A Drank- T-Pain feat Young Joc
* 6) Tambourine - Eve
* 7) Wake Up Call - Maroon 5
* 8) Little Of Your Time - Maroon 5
* 9) LoveStoned - Justin Timberlake
* 10)Buddy - Musiq Soulchild
List of Weird Names
Black Lim
Dadmond Tan
Auto Yap
Bacon Lim
*Star Visitors
*Star BlogLog
Powered by