Saturday, June 30, 2007
Types of Alcoholics
So how does an alcoholic look like??



Like vicky vacko?


Or like him?

What you see are the alcoholic generation. According to the National Institute on Alcohol Abuse and Alcoholism, there are 5 types of alcoholics.



Young Adult subtype

:
These are the young adult alcoholics with an average age of 24. They drink less frequent than other alcoholics but tend to binge drink when they do. These are mostly people who's parents restrict them from going out but when they do , they overdo it. You can find them mostly in Rush or Q-Bar.



Young Antisocial subtype:


These people are 26 yrs old on average. They posses antisocial personality disorder. These are the people who have the tendency to smoke tobacco and pot. I would say they are the freaks maybe. Definitely does not apply to me.



Functional subtype:


Generally middle-age working adults who already have stable relationships , more education and higher income than the other alcoholic . They tend to consume alcohol every other day. This is more common in our society. Or rather the people that I often come across. I know many alcoholics but at least now I know they are the good alcoholics. You can find them mostly in Velvet...hehe.



Intermediate familial subtype:


Most of them have close relatives who are alcoholic.
Alcoholic relatives are also a bad influence especially during Chinese New Year.



Chronic severe subtype:


This is the rarest type of alcoholic. This subtype mainly constitutes of men, having the highest divorce rates and are mostly users of illicit drugs. These are what we call the scum of the society. They most likely feed on home made alcohol where quality control does not exist.

So, why are people addicted to alcohol or rather why do they form a love relationship with it? City dwellers are constantly looking for ways to feel relaxed and some needs a rowdy way to relax. It is weird that we can't leave the city yet we still want to get away from the hum-drum of our daily lives.

Labels: Issues
posted by DaphStar* @ 11:36 PM

Thursday, June 28, 2007
Days of the week
This is how I would describe the days of the week of my life:



Mundane Monday

- Yea, wake up, work , meeting, lunch, sit in office or run out. Nothing much.



Terrible Tuesday

- When the pressure starts building up cos you know you have another 3 more days to drag.



Worrisome Wednesday

- Work beats the crap out of you.



Thirsty Thursday

- Preview to the weekend. Drinking starts gradually.



Freaking Friday!

- Yahooo... its freaking Friday meaning no work the next day.



Surreal Saturday

- When you're drunk, every event seems surreal.



Sober-up Sunday

- A day to sober up. Start preparing work at night for Mundane Monday.

So, what's your life like?

Labels: Offbeat
posted by DaphStar* @ 6:45 AM

Wednesday, June 27, 2007
Bad name for a car


What were the marketing people in Nissan thinking when they gave the name Latio to their new sedan range. Seriously, it really sounds like Fellatio. Maybe that is how they got the inspiration for the name of the car. One day, a guy was getting a hot Fellatio when it struck him that he should give the name Latio to the new Nissan.
So, if the marketing person were to be a lady, she would give the name Nissan Lingus.

Labels: Issues
posted by DaphStar* @ 7:06 AM

Wednesday, June 20, 2007
Sepet can be beautiful too...
Who says only girls with big goo goo eyes are beautiful.



I agree that big round eyes are no doubt cute, pretty and beautiful. Big eyes are mesmerizing and it could just kill a guy with one look. Ok, I think girls with big eyes are overrated. Sorry to those beautiful girls out there, but you are already born with beautiful eyes so give me a chance to justify that there isn't a need for a double eyelid surgery.

Chinese are naturally born with slant eyes and that's what we are meant to be. Slant eyes are our identity which sets us apart from the Europeans or other Asian nation. Have you seen an ang moh with slant eyes?? Rare. So, today I would wanna revive the slant eye beauty that have been forgotten ever since the emergence of people like Ayumi Hamasaki, Jolin Tsai and every Taiwanese girl for that matter.


Slant eyes can be mesmerizing tooo..


Very alluring..



So girls, if you think your non existent eyes are ugly and you are considering plastic surgery, consider this first.


First day after surgery. Wah lau ehh!! looks like it was taken from a horror movie.
Fifth day and it looking like freak show.
After 2 weeks.
But for the first freaking week, can't possibly go to work with the eye looking like that.
Its ok, I shall keep my single eye-lid just the way it is. Power to the Chinese! HAROOH! HAROOH! HAROOH!



Labels: Thoughts
posted by DaphStar* @ 6:45 AM

Thursday, June 14, 2007
Butt cutting underwear 1
To many, thongs simply means the type of panties that gets stuck in between your butt crack. As uncomfortable it may sound, it is actually sexy.

Moving on, let me educate about the types of thong that I know that are currently available.
Not all butt cutting panties are called thong. Basically there are 4 types:

1)

Brazilian Cut





This may seem like a regular panty, however it cuts the butt still. Sexy in a way it provides more coverage compared to regular thong. So, it gives the guys an impression that it is a regular panty from the front but when flipped over, it is a partial thong revealing part of the ass. Some guys like the suspense of not revealing it all.



2)

V String






V String has a little less coverage. As you can see, there is only a string supporting the entire panty. This means that it is meant to be worn under a very sheer figure hugging dress. Lesser coverage, less visible panty line, sexier! Gives the illusion that you are not wearing any panties at all under the dress! Fuyoh!


3) Thong

Now, this is called a thong. Slightly less support compared to the Brazilian but a bit more revealing. Suitable to be worn under a fitted pair of pants where you do not want any panty line. Also of course you must have a nice ass to show it off, else it will look too droopy and heavy without any support. Thongs don't give much support, so the ass has to support itself!







4)

Pearl Thong



Lastly, the most interesting one. The Pearl Thong. Made famous by Samantha in Sex and the City. I have yet to see something like that in the Malaysian market. I guess women don't feel to comfortable wearing their pearl necklace at their bottom. This is not really a functional panty like the above 3, but I guess it is more of a tool, a seduction tool. Can you imagine some pearl beads rubbing against the bottom all day long. I think some women get a sense a high from that rubbing motion. I mean like who wanna get aroused from wearing a pearl thong while having a meal, that is if you wanna get laid on your first date.


Rear view
To purchase go to
Be Cheeky


Front view
Labels: Offbeat
posted by DaphStar* @ 7:27 AM

Monday, June 11, 2007
Team Name
Every year my company will have an Olympics where every team will have to send their best sports men and sports women to participate. It is fun because not only do we get to participate in the sports, but also to choose a name for the team and also to dress up(sounds girlie).

The theme for last year and this year is Super Heroes. There are tonnes of famous super heroes and it is an easy and fun theme to go with. There were 4 teams altogether, The Jedis, The Incredibles, The ThunderCats, and the most unfortunate The Avengers. And I was one of the unfortunate ones.

The other teams at least had some sort of costume to dress up in or even carry or wear accessories (light saber, swords, eye mask). The Avengers however is baffling. What do we dress up as??


Seriously I haven't watched The Avengers before and why are they even considered super heroes?!

This was our team. Yes, it is sad that we had to wear party eye mask. But what to do???!!! a cock name as our team name makes a bluebird(translate into hokkien) team.

This year however we decided not to be mocked at. We are changing names and changing leaders! Through much brain storming, we came up with an awesome team name, The Spartans! We are well prepared, well organized and well motivated. The name was inspired by the movie 300 which was a super awesome movie.



Everyone is psyched about the brand new name that we have changed. Even our leader who coincidentally is named King (which makes him King of Sparta) is keeping his facial hair just to look like King Leonidas. The body, oh well, could take years of training for that. We've just decided to fake the abs by drawing the contours using tanning powder.


The Oracle is an interesting character to portray, but we wouldn't want too much of nudity. I don't think anyone would want to be draped only in a piece of thin curtain.


It would be hard to dress up as the queen as well. Too much exposure. However, if we do, I guess we would win the best dressed and best team spirit. Who wouldn't award someone for dressing in that piece of cloth!

It is going to be interesting to watch the Spartans in battle. We even have our battle flag with a killer logo. All we need right now are spears, shields and daggers to complete the team's costume.


Shall update with pictures of the dress up event. Would be interesting to see a half naked King, Queen and the Oracle!

Labels: Lifestyle
posted by DaphStar* @ 3:24 AM

Wednesday, June 6, 2007
Do's and Dont's when taking LRT
LRT is a great transportation mode in the city. It is meant to release a certain amount of stress overloaded on us by the constant madness of the traffic in KL. It is definitely better than taking the horrendous buses in Puduraya. I would just shoot myself if I were to walk into Puduraya to catch a bus.

I used to work in KLCC and LRT is the greatest mode of transportation to get to work. At least I don't have to pay for ludicrous parking fees and be late for work. Also, it gave my leg muscles the right amount of workout that I needed.

However, my only discontent would be the overly crowded trains during peak hours. And you do know how certain people smell especially after a long day of perspiration.


I have taken trains in Hong Kong, Singapore and New York during the peak hours but none smelt like how the trains in Malaysia do. I just can't understand why. If you were to say its because of the weather that makes us perspire more compared to Hong Kong and New York, then what about Singapore? I believe that Singapore is just as hot and humid as Malaysia is.


Considering that 2007 is the year to Visit Malaysia, I believe that tourists are heavily dependent on our railway system to access to various parts of the city. This would mean that they would also have go through the same torment that we do everyday and go back to their motherland with not a very pleasant memory. More like a foul smelling memory.

I have found out that I am not the only one who took notice of this irritating social problem.
Hence, Thomas, my fellow LRT passenger came up with this notice to supplement the existing notice that PUTRA has put in place.



Some people may be illiterate so graphical representation of these prohibitions would be even more effective.





Happy Visiting Malaysia!

Labels: Lifestyle
posted by DaphStar* @ 7:06 AM

Sunday, June 3, 2007
A Garden wedding ,A night of Shenanigans
This is the first time I have attended a garden wedding. Usually its the traditional Chinese sit down dinner in a hotel, where dinner is suppose to start at 7pm but will drag to 8:30pm. Worst case scenario is that the older folks will chuck their favorite karaoke oldies hits into the machine and croon the night away. HATE IT!

So, garden wedding is totally different where its a buffet instead of a sit down dinner. Guests will get to mingle with the other guest instead of getting their ass glued to the seat, going through the grueling 9 or 10 course dinner.

Actually this post is meant to be picture-heavy-duty.


And so, my evening started out real early. Unfortunate for everyone, I brought the rain.


Nice setting with the tables and tents in the garden, not so nice when the ground is soaked with water. By the way if you like what you see, the garden wedding took place at Cafe Citron located along Jln Eaton. It is one of those big bungalows with a lawn of a soccer field.


The indoors were fully reserved for family and close friends.



Nat and I the ang pow treasurer. Sorry Joey, I actually peeked into every packet that we received and gave nasty looks at those who gave below 100 bucks.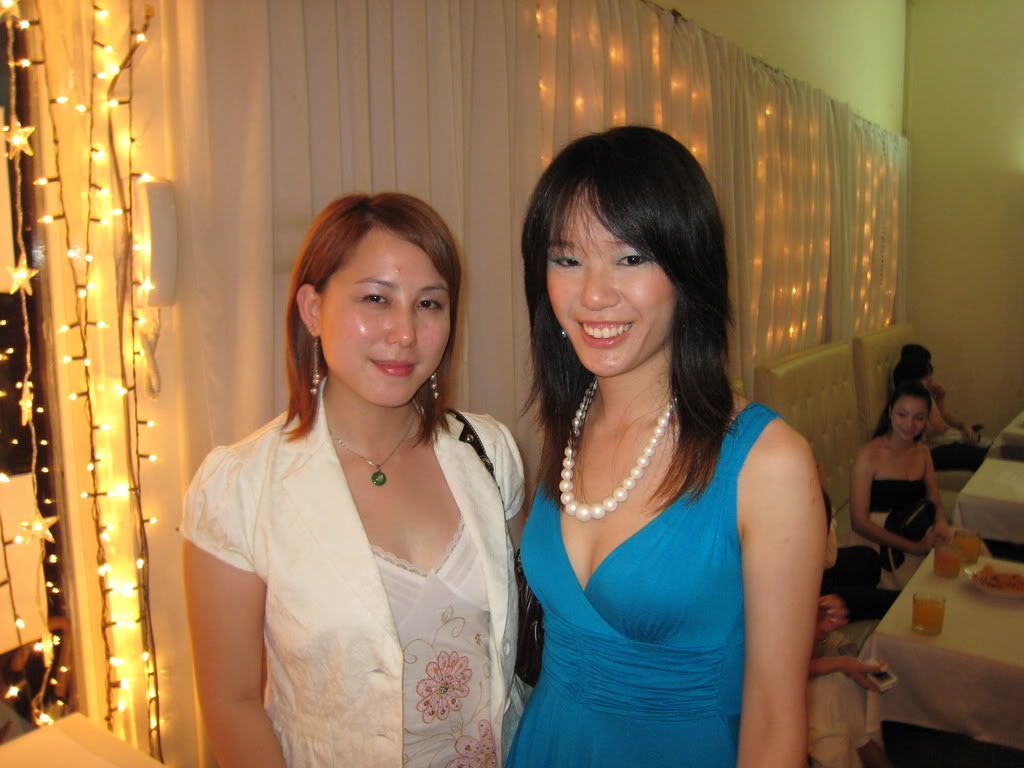 I like the place quite a fair bit. It has that warm rustic feel to it. So I decided to explore it a bit more.



And yes, my favorite, the toilet. Checkout the little wooden door by the sanitary bin. A bathroom catered for the hobbits. How cute!




The rain couldn't seem to stop and we couldn't seem to stop too...drinking that is. Finally the bride and bridegroom made their entrance.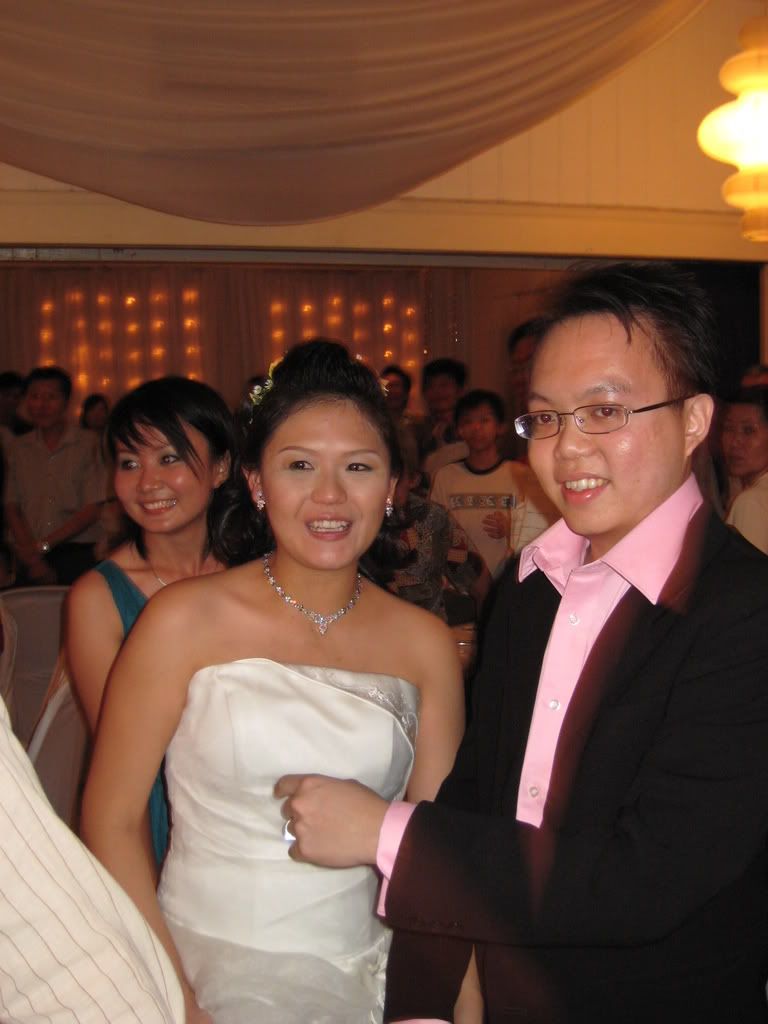 The MCs had to calm the rowdy crowd. Alcohol turns people into creatures.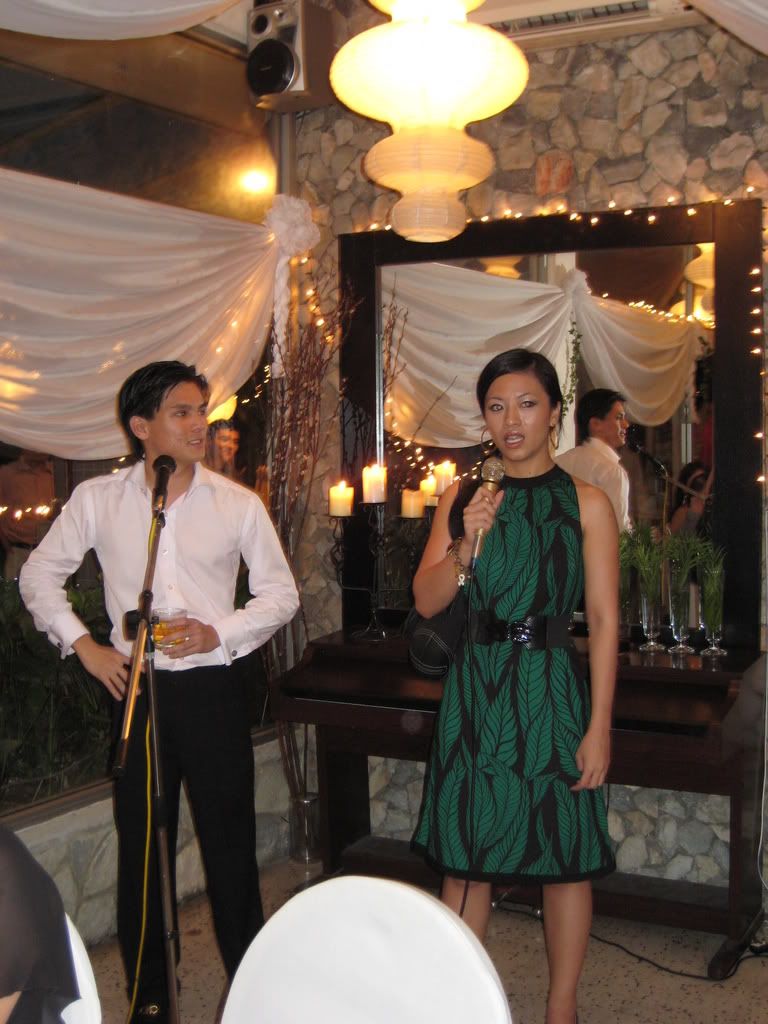 The Charlie's Angels. We are the life of the office.



Actually make that 4. The bride is the new addition to the Angels.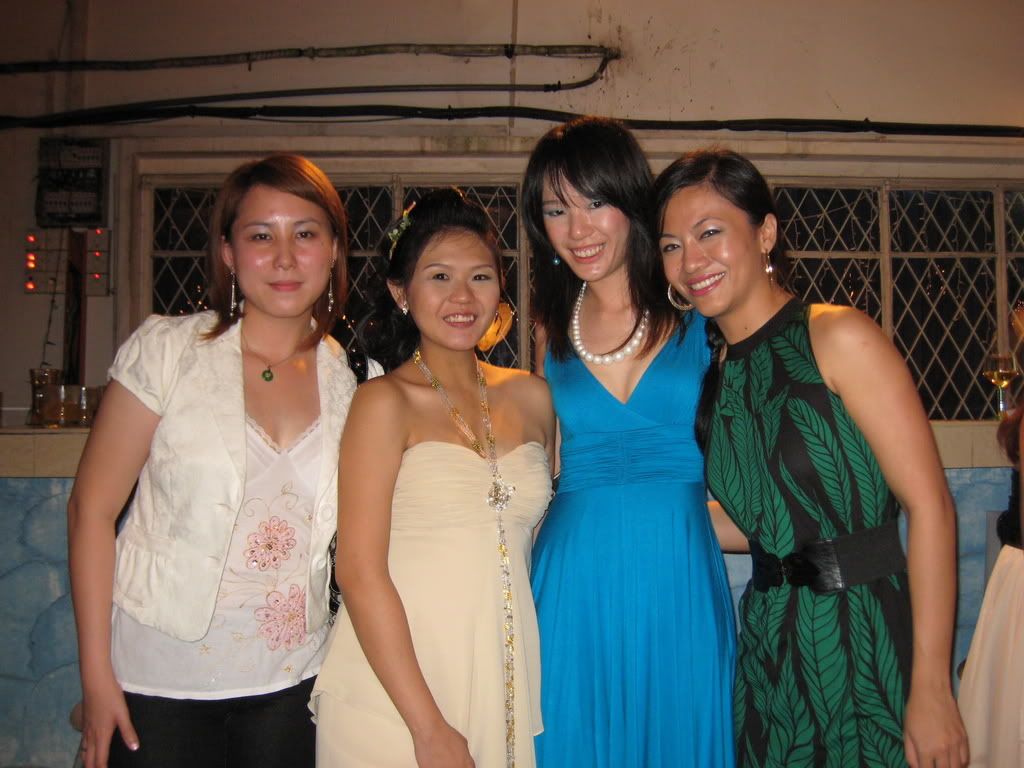 The night went along pretty well. Albeit our soaking wet feet, we still managed to make our to Velvet for the after party. ( Yea, Velvet AGAIN!Lifeless person)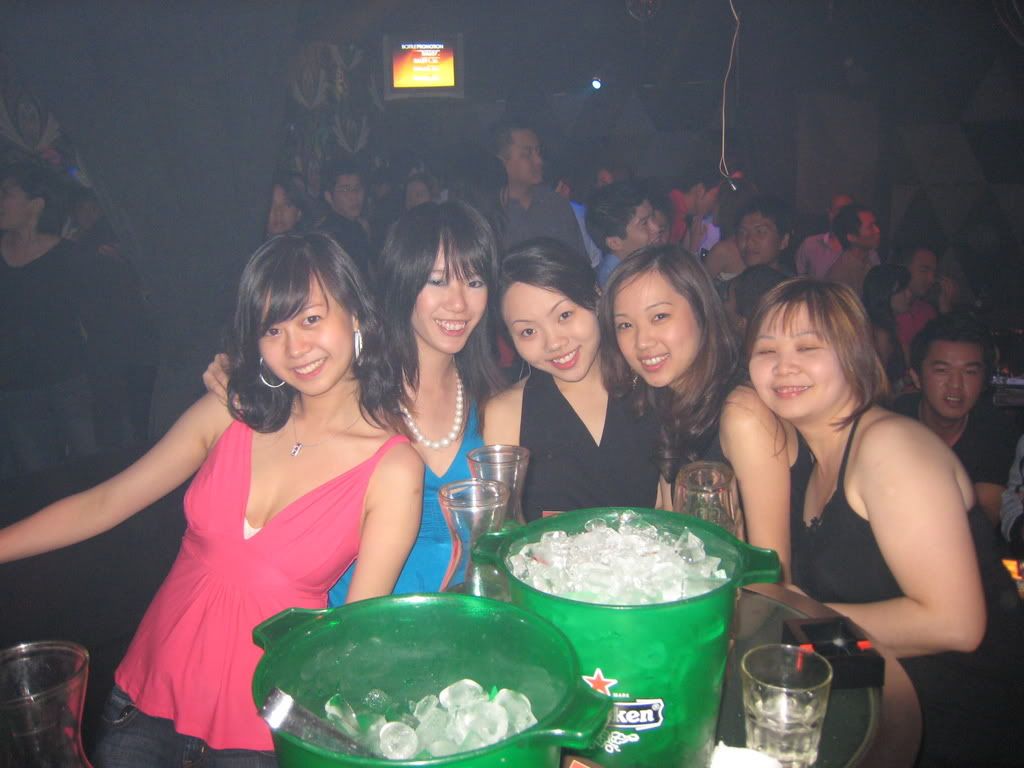 Still quite sober. Walking around with the glass in my hand made me look like a drunkard, but I'm not. Its all water! I'm just a poser!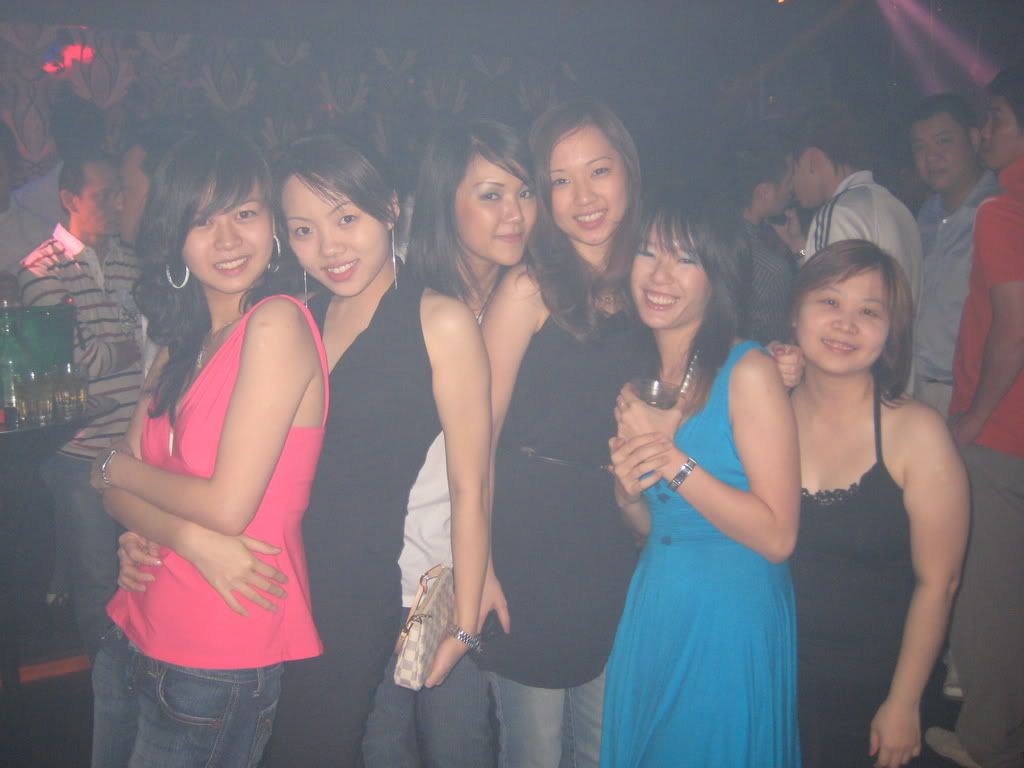 After couple of shots of Tequila, Blow Job and a Flaming , we couldn't care less of what people may think of us.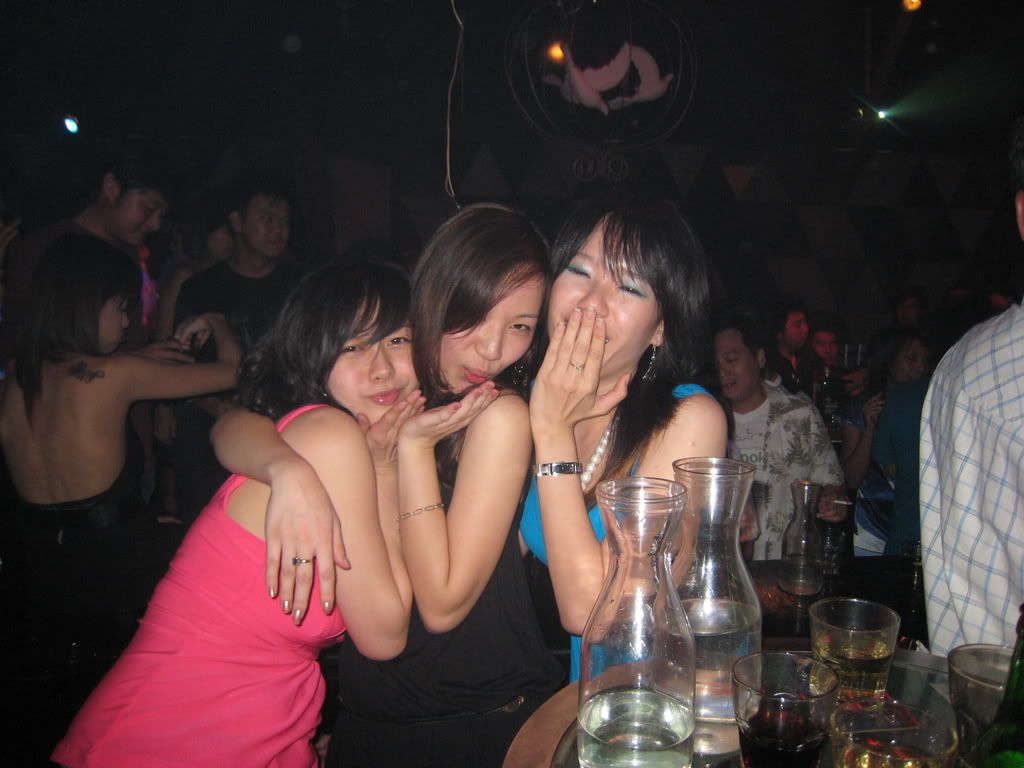 Under normal circumstances, me and my friends will never pose with a peace sign. If we do the peace sign, its a sarcastic gesture.



Victor thanking the Almighty One for girls brushing against him.



Brian getting squashed by a bunch of drunkards.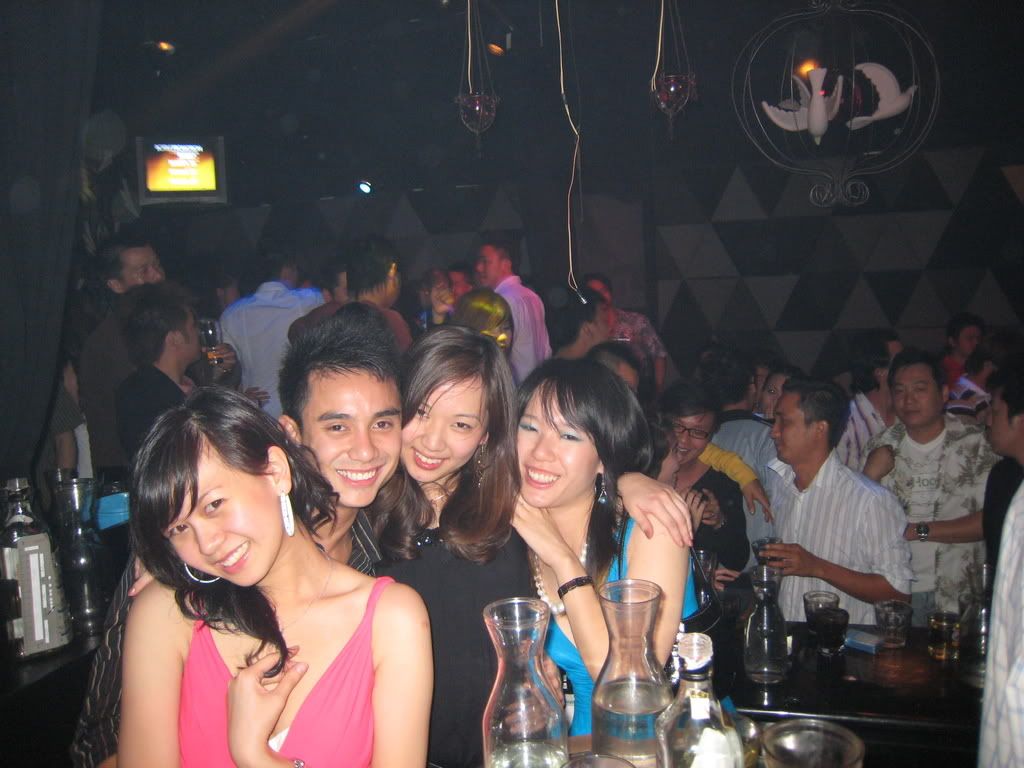 Trying out the five cute poses of a Taiwanese girl. Only managed to do 2, the peace 2 finger and 5 finger pose.


Yes, I am digging my teeth.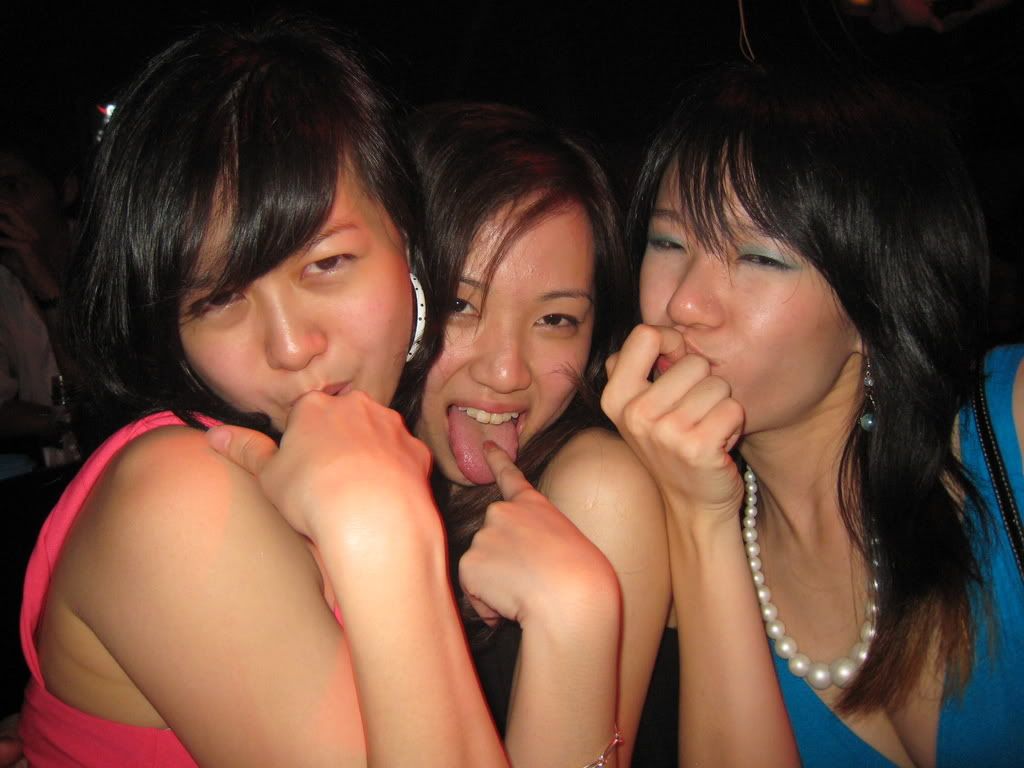 And finally, I will be missing you Kat. Girls night out will never be the same without you.




P/s: I've never posed for so many pictures before. I'm so lethargic now that I feel nauseous from all the cam whoring.

Labels: Lifestyle
posted by DaphStar* @ 1:25 AM

About Me
Name: DaphStar*
Home:
About Me:
See my complete profile
*Star Chatz
*Starz Count
Free Counter
*Star Postings
Previous Post
Archives
*Star Homiez
*Star Boutiques
*Star Tunez
* 1) Bartender - T-Pain
* 2) Shawty - Plies Feat T-Pain
* 3) Valentine - Lloyd
* 4) Get It Shawty - Lloyd
* 5) Buy You A Drank- T-Pain feat Young Joc
* 6) Tambourine - Eve
* 7) Wake Up Call - Maroon 5
* 8) Little Of Your Time - Maroon 5
* 9) LoveStoned - Justin Timberlake
* 10)Buddy - Musiq Soulchild
List of Weird Names
Black Lim
Dadmond Tan
Auto Yap
Bacon Lim
*Star Visitors
*Star BlogLog
Powered by