Monday, October 15, 2007
Hakka yin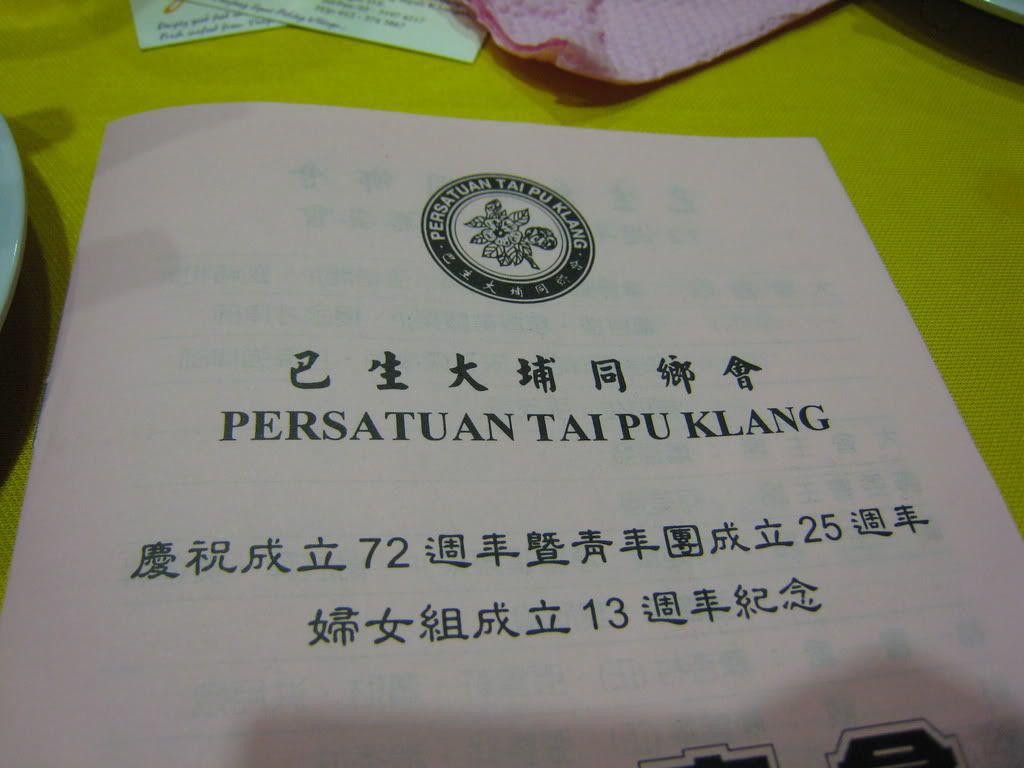 2nd day of raya was not very 'Rayaful' for me. Instead, it was more Chinese New Year-ish.
Was invited to attend the anniversary dinner of a Hakka association in Klang , known as the Tai Pu association. I am not a descendant of the Hakka clan , but was invited to train a couple of kids for a performance.

So there I was in a dinner with 400 over other Hakka people. I was so lost because the entire event was conducted either in Mandarin or Hakka and my command of neither dialect is almost close to nil.

It wasn't an entirely boring night because at least the food was fantastic! The organizers did a very good job at choosing a caterer all the way from Tanjung Sepat(some village off Morib in Selangor). All food served are authentic Hakka cuisine. I was just too occupied with savoring every dish served and gulping down the free flow of beer.

Guests were entertained throughout the dinner. Of course one of the performance was by some kids that I have trained and I must say they have done a pretty good job. The other performances was, irritatingly amusing.

Chinese vocal performances were popular among the guests. It was jaw dropping for me as I have never attended any Chinese karaoke competition in my life. The traditional Chinese karoke style of singing is just in a way hilarious to me. What more when the performer actually dresses up as a Chinese emperor, with a sword in one hand and a microphone in another.


The original Chow Yuen Fatt as the emperor and Jay Chow as the prince in the Curse of the Golden Flower movie.


Counterfeit product of Curse of the Golden Flower. Gotta admit that they paid quite a sum for that outfit. The singing was, well, can't comment because I am more of a Timberlake and Timbaland person rather than a Chinese karaoke crooner.



I think the guy is just hilarious! By the way, they are a father and son pair.

Thank goodness that singing wasn't the only entertainment of the night because our table was strategically placed where the speakers were directly facing us. There was a mini magic/illusion performance as well. And as you would've guessed it, yes, it is a traditional Chinese Magic show.


The person was actually dressed in a robe with a creepy mask, dancing around the stage for the length of 3 full songs. Best part of it all, it is the same 3 songs playing repeatedly for the entire performance. If this was performed in Iowa, kids would have dashed out of the hall screaming their heads off traumatized. What was the illusionist doing dancing around? She was pretty swift in changing masks throughout the dance ritual. It was impressive for the first few minute but then it got a little mundane after the 5th minute. However the MOST impressive part of all was that the performer was a girl. And not just any auntie. It was a hot 17 year old chick under that hideous robe. She was tall, really fair skinned, and she has the sweetest lips and smile. Who knew that a hot chick would do something so traditional. Don't believe me, check it out for yourselves.





She is pretty amazing.I think it is her masculine way of dancing that got everybody thinking it is a dude behind the mask.

There is always a good thing about holding functions in a small town. Food is cheap and exceeds expectations, oversized hall with a control center for performances, best of all corkage - sfree on all bottles of liquor brought to the event! Just ask for ice and water and you can start a party of your own if the event gets boring.

After the dinner, the only Hakka word I have learnt is Hakka Yin, which means Hakka Person. It was the most used phrase of the night. Hakka swear words , I have yet to learn. So if anyone could teach me some, I will use it liberally in my everyday conversation.

Labels: Lifestyle
posted by DaphStar* @ 7:26 AM

About Me
Name: DaphStar*
Home:
About Me:
See my complete profile
*Star Chatz
*Starz Count
Free Counter
*Star Postings
Previous Post
Archives
*Star Homiez
*Star Boutiques
*Star Tunez
* 1) Bartender - T-Pain
* 2) Shawty - Plies Feat T-Pain
* 3) Valentine - Lloyd
* 4) Get It Shawty - Lloyd
* 5) Buy You A Drank- T-Pain feat Young Joc
* 6) Tambourine - Eve
* 7) Wake Up Call - Maroon 5
* 8) Little Of Your Time - Maroon 5
* 9) LoveStoned - Justin Timberlake
* 10)Buddy - Musiq Soulchild
List of Weird Names
Black Lim
Dadmond Tan
Auto Yap
Bacon Lim
*Star Visitors
*Star BlogLog
Powered by